Cannabis 'Gold Rush' will boost retail in Canada, RioCan says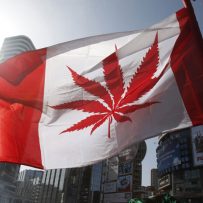 RioCan Real Estate Investment Trust said it's anticipating a "gold rush" from Canada's legalization of recreational marijuana in October, bringing premium rents and boosting demand for retail real estate across the country's biggest markets.
Canadian pot companies say they're ready to start building in Ontario if its government allows private stores to sell marijuana, a prospect being considered by the conservative premier, Doug Ford. That system would mark a shift from the previous, liberal government's decision to leave sales to government entities like the Liquor Control Board of Ontario.
"There's no question that whatever rules finally come down, they're not going to want four cannabis stores at one corner — there's going to be some control over that," RioCan chief executive officer Edward Sonshine said on an earnings call with analysts Wednesday. The "gold rush" will come as retailers start "looking to stake a claim at the best locations, many of which we own."
Marijuana retail "could be a large opportunity for them," Matt Kopsky, an analyst at Edward Jones & Co., said in an interview. "Obviously it's a growing segment within the retail market, and I'm here in Colorado and there's stores all over the state," he said. "With retail struggling, it's good to have any sort of growth opportunities."
Gold rush or not, it's an opportunity that comes amid growth in the REIT's committed retail occupancy. The measure increased by about a third of a percentage point, to 97 per cent, from the previous quarter, RioCan said in its second-quarter earnings report. At the same time, commercial brokers including Jones Lang LaSalle Inc. are investing in their retail-advisory services in Canada to feed a growing demand from retailers around the world.
Cannabis in Canada could create demand of as much as 200,000 square feet (19,000 square metres) of retail space, Sonshine said, acknowledging that estimate could change with government policy.