Cannabis and the Code: Human Rights Commission releases new policy statement in advance of legalization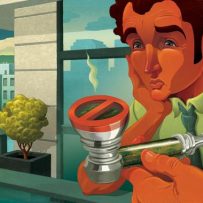 On October 11, 2018, the Ontario Human Rights Commission (OHRC) released a new policy statement on cannabis and the Human Rights Code.
The policy statement confirms that provincial smoke-free legislation prohibits smoking or vaping cannabis for a recreational or medical purpose in common areas of apartments and condominiums.  The Commission acknowledges that people can smoke, vape or consume edible cannabis for medical or recreational purposes inside apartments and condominiums unless there are rules or by-laws prohibiting same. 
Many multi-residential housing providers, property managers and condominium corporations have rules, regulations or by-laws prohibiting the smoking or vaping of any substance within a unit.  For many owners and managers, the transition to smoke-free housing environments began some time ago with rising concerns over second-hand cigarette smoke and damage to property.
The policy statement also confirms that housing providers may have a duty to accommodate medical cannabis use related to a disability unless to do so would cause undue hardship.  Residents seeking accommodation related to cannabis use can be asked to provide medical or other information to support their disability-related needs.  Cannabis use-medical or recreational-might have a negative effect on other residents of the building.  It will be incumbent on the housing provider and residents involved in such a situation to come to an appropriate accommodation plan. 
If you are a housing provider and are looking to ban smoking or vaping of cannabis within your units or if you have questions around accommodating requests for medical cannabis use, contact Kristin Ley at:ley@cohenhighley.com 
Condo corporations, landlords left scrambling as pot legalization looms
Dealing with residents who smoke or grow cannabis is nothing new for most landlords and condominium corporations. But as the clock ticks down to recreational cannabis legalization on Oct. 17, many are still left scrambling to clear up some unanswered questions that the new legislation brings.    
"While legalization of cannabis is new, we have been dealing with cannabis growing and smoking for what seems like forever," Rachelle Berube, a long-time property manager in the Toronto area, and president of Landlord Rescue Inc., told BNN Bloomberg in an email.
"It's been legal for medical marijuana growers to grow their own plants as well, and that has been very problematic."
Landlords like Berube and condo boards face a number of uncertainties after pot is legalized next week – from neighbourly concerns about the drug's smell, to landlord and tenants' rights, and outdated mortgage and insurance rules that will not reflect the end of marijuana prohibition in Canada.
While Berube said she has included clauses in her rental agreements preventing the smoking and growing of cannabis for years, she recently took it upon herself to revise them further after legalization. In Ontario, the standard of leases was also revamped this past spring, giving landlords the option to impose rules around smoking – as long as they comply with the Human Rights Code.  
Berube said from a landlord's perspective, a big concern with tenants smoking or cultivating cannabis is the smell infiltrating a neighbouring tenant's space.
"In my case, I definitely trust my judgement for what the problems are regarding smoking marijuana, and my attitude towards it can be best summed up as: 'Smoke your face off, as long as you don't interfere with anyone else,'" she said. "That means smoking outside, just like a cigarette."
If issues  around cannabis arise between tenants and landlords, and can't be resolved amongst themselves, they can escalate their concerns. In Ontario, issues between landlords and tenants with regards to marijuana would be handled by the Landlord and Tenant Board, which will use the Residential Tenancies Act to mediate or adjudicate between the two parties. The act however, does not address cannabis use specifically, but the board indicates landlords can move to prohibit tenants from smoking in their properties.
"For example, if a tenant smokes in their unit and the second-hand smoke substantially interferes with the reasonable enjoyment of another tenant or the landlord, the landlord may be able to give a notice of termination," Vanessa Campbell, a LTB spokesperson told BNN Bloomberg in an email. "And if the smoking persists, the landlord may apply to the LTB for an order terminating the tenancy and evicting the tenant."
However, Berube said with the upcoming legalization, she is more concerned about the ripple effect caused by the legislative changes than dealing with pot-smoking tenants and the fact that rules around mortgages and insurance haven't been updated.   
"For instance, if one of our tenants starts to grow plants, is our building now a grow-op? How does this affect our insurance coverage? Is our insurance void? You also can't a get a mortgage or CMHC financing on a 'grow-op.' How is this going to change?" she said.
In an emailed statement to BNN Bloomberg, the CMHC said it will not revise its previous policies marijuana grow operations, but that it plans to monitor the impact of the Cannabis Act over the long term. 
"CMHC will continue to insure properties where cannabis has been previously grown. However, in cases where damage has occurred as a result of cannabis cultivation, the lender will be required to disclose this information to CMHC in making the request for mortgage loan insurance and confirm that remedial action has been taken to address any related property damage/alterations," the statement read.  
Condo concerns
Condo corporations and developers also have the right to set their own rules around the smoking and cultivation of cannabis in their units and commons spaces. Many condo boards across the country have already moved to impose new rules or make their buildings completely smoke-free in anticipation of legalization.
Lash Condo Law in Toronto says it has been fielding questions from condo corporations on a daily basis regarding cannabis in the lead-up to Oct. 17.
"Condo corporations are most concerned about what they can do to protect themselves when owners will be permitted to recreationally smoke and grow cannabis in their units,"  Danielle Swartz, a lawyer at the firm told BNN Bloomberg.
Swartz says condo boards and developers can implement their own rules around smoking as long as those rules promote safety, security or welfare of the owners, property and commons spaces – and that they are reasonable and consistent with the Condominium Act of 1998. She added that the 10-year-old act isn't expected to be updated any time soon.
The same rules apply when it comes to condos banning home growing, Swartz said, because of potential problems with mould and structural damage.
If residents fail to comply with the rules set out by the condo board, the condo corporation can ask the Superior Court of Justice to grant an order to evict the resident.
Swartz noted, however, residents who have a medical need to consume cannabis will have to be accommodated.
She said it's up to the property managers, as agents of the condo corporation, to ensure unit owners comply with the Condo Act and rules set out by the corporation.
 "If the resident continues to act in non-compliance, then the property manager should refer the matter to the condo corporation's legal counsel."