Canadian Household Debt Hits All-Time High, With Nearly $1.65 Owed For $1 Earned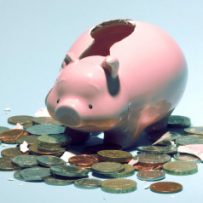 Story by: CP  |  By The Canadian Press
Statistics Canada says the amount owed by Canadians compared with disposable income increased in the second quarter as debt levels rose more than income.
The ratio of household debt to disposable income climbed to 164.6 per cent from 163.0 per cent in the first quarter, the agency reported Friday.
That means Canadians owed nearly $1.65 in credit market debt, which includes consumer credit, and mortgage and non-mortgage loans, for every dollar of disposable income.
It says household credit market debt grew by 1.8 per cent during the quarter, while disposable income grew 0.8 per cent over the same period.
"Hot housing markets in B.C. and Ontario are pushing mortgage growth, despite softness in oil producing regions," Bank of Montreal senior economist Benjamin Reitzes said.
"The increase in the ratio was the largest since 2011, though it's important to keep in mind that the second quarter generally sees the largest rise in the debt ratio, so don't expect further increases of this magnitude in the second half of the year."
The increased borrowing comes at a time of low interest rates.
Reitzes noted the household debt service ratio, which measures the amount of interest and principal as a share of disposable income, increased 0.2 percentage points to 14.1 per cent.
However, he said interest payments as a share of disposable income hit a new record low at 6.37 per cent in the quarter.
Overall, total household credit market debt amounted to $1.874 trillion at the end of the second quarter, up 1.8 per cent from the previous quarter.
Household net worth increased 0.9 per cent in the second quarter as non-financial assets, primarily real estate, rose 1.8 per cent while net financial assets edged down 0.1 per cent.
On a per capita basis, household net worth increased to $243,800.