Canadians are paying their bills while piling up debt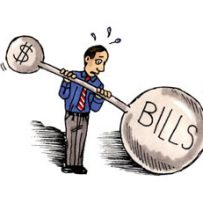 Tamsin McMahon – REAL ESTATE REPORTER The Globe and Mail
Canadians are finding it easier than ever to afford to pay their bills, even as they've continued to get deeper in debt.
Consumer delinquency rates dropped to their lowest levels in more than six years, credit monitoring firm Equifax Inc. reported. The proportion of consumer credit accounts that were delinquent for at least 90 days fell to 1.05 per cent in the third quarter, the smallest since Equifax began tracking consumer debt trends in 2009.
Is there such a thing as good debt?
But the national figures mask a substantial deterioration in the financial picture of consumers in the oil patch.
In Alberta, delinquency rates soared 13.4 per cent in the third quarter of the year, compared to the same period last year, while the number of consumers behind on their payments rose 8.4 per cent in Saskatchewan and 5.8 per cent Newfoundland.
Personal bankruptcy rates have also been rising across the Prairies despite the overall number of bankruptcies across Canada dropping more than 9 per cent on an annualized basis.
"We didn't see the impact on some of those numbers in Alberta and Saskatchewan much in 2014," said Regina Malina, a senior director at Equifax. "When oil prices went down, the unemployment rate did not get impacted instantly. But as those unemployment rates are increasing in those provinces, we are seeing the impact on delinquency rates."
The pain is particularly acute in Alberta, where consumers already have the highest debt loads in Canada, home prices have been falling and oil prices are now expected to remain low well into next year. On Tuesday, the Calgary Real Estate Board reported that benchmark existing home prices dropped 2 per cent in November from a year earlier. Overall delinquency rates in the city have jumped 8.5 per cent over the past year, Equifax said.
Outside of resource-sensitive provinces, consumers are benefiting from the Bank of Canada's interest rate cuts, along with cheaper gas prices. Delinquency rates dropped nearly 11 per cent on an annualized basis in Ontario and British Columbia, while the financial situation also improved for consumers in Quebec and Atlantic Canada.
The brightening picture outside the oil patch is consistent with Bank of Canada Governor Stephen Poloz's goals in cutting interest rates twice this year: to boost exports and encourage more consumer spending to stave off a deeper recession.
Nationally, consumer spending rose 1.8 per cent in the third quarter, driven by purchases of durable goods such as cars. Residential investment rose 2.5 per cent, helping to send GDP growth into positive territory, Statistics Canada reported.
Consumer debt rose as well. Canadians carried an average of $21,132 in non-mortgage debt in the third quarter, up 2 per cent from the previous year, Equifax found. Car loans jumped 8 per cent on a rebounding auto sector. Hot housing markets in Ontario and B.C. have pushed up mortgage debt by nearly 6 per cent from the third quarter of last year. Instalment loans, which could include loans used to buy vehicles, rose 5 per cent.
By contrast, balances of revolving loans, which include home equity lines of credit, grew by just 0.3 per cent, while credit card balances rose 2.6 per cent.
Consumer debt rose the most in Central and Eastern Canada. Among major cities, average non-mortgage debts grew the most in Montreal, up nearly 4 per cent from a year earlier to more than $16,500. Debt grew by nearly 3 per cent in Toronto, to almost $20,000, while in Halifax it rose 2.5 per cent to $22,889. Despite an increase in debt across the Maritimes, delinquency rates dropped in the region.
Despite the energy sector slowdown, average consumer debt balances actually increased slightly in Calgary, where consumers continue to have the highest average balances of any Canadian city at more than $28,000. Outstanding balances dropped slightly in Vancouver, to below $24,000.
With interest rates expected to stay low well into next year and GDP growth turning positive in the third quarter, Ms. Malina predicts that delinquency rates will level off in the oil patch as the Canadian economy continues to improve.
But she cautioned that high consumer debt levels mean future interest rate increases need to be gradual to avoid derailing the economic recovery. "It's very important that interest rates increase very slowly so that Canadians and the economy can adjust to the changes," she said.
Follow Tamsin McMahon on Twitter: @tamsinrm