Canadian Stocks Plunge to 2013 Levels as Rout in Crude Deepens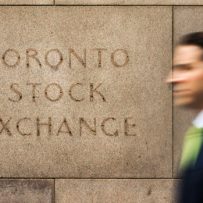 Story by: Anna-Louise Jackson and Dani Burger
Canadian stocks fell to the lowest level since 2013 even after an afternoon rally trimmed what earlier had been the biggest decline in four years, as turmoil returned to global markets rattled by a renewed rout in crude and continued concerns over China.
The Standard & Poor's/TSX Index slumped 1.3 percent to 11,843.11 at 4:00 p.m. in Toronto, as oil plunged below $27 a barrel. The gauge, which trimmed losses of as much as 3.9 percent on Wednesday, posted its 13th decline in the past 16 days to close at a level last seen in 2013. It entered a bear market two weeks ago and is down almost 9 percent year to date.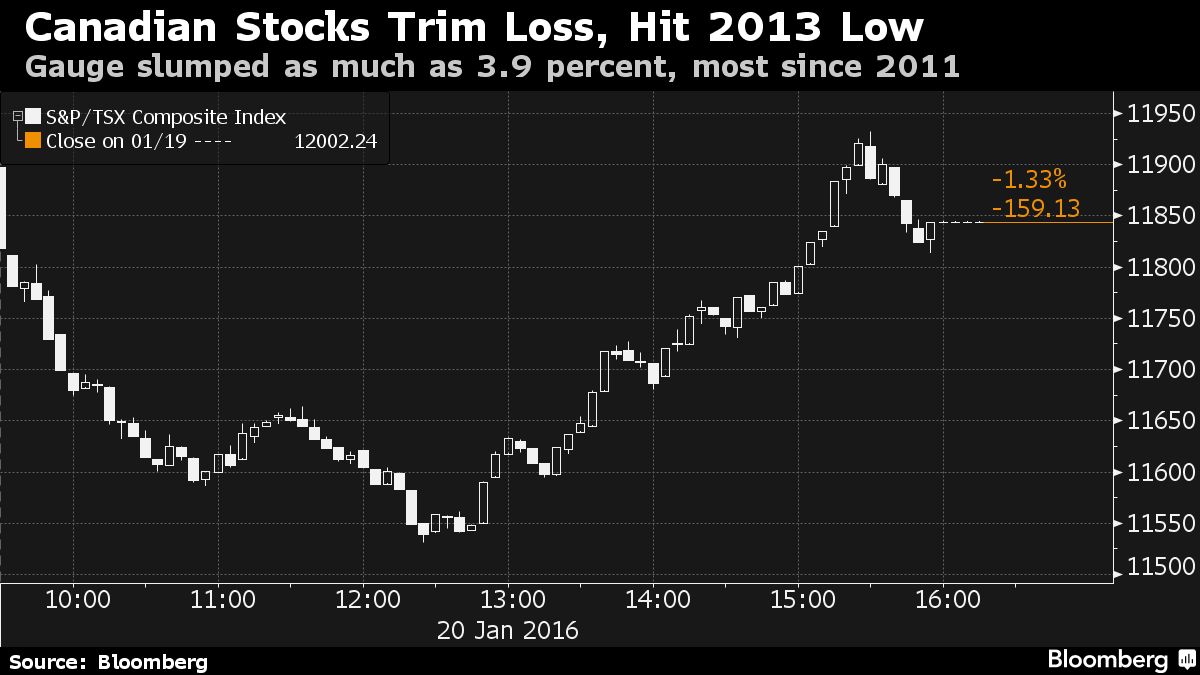 "Today is no different than the last several weeks — Canadian equities are especially hard hit by energy and commodity prices," Audrey Kaplan, senior portfolio manager and head of international equities at Federated Global Investment Management Corp, said by phone. "Until we start to see some rebound there, it seems that the Canadian markets will be in a shaky, volatile ground."
The S&P/TSX trades at 13.7 times the forecast earnings for its members, below the index's 15.3 average of the past five years. It's less expensive than the S&P 500's 15.1 multiple, and in line with developed markets in Europe, where the Stoxx 600 Index trades for 13.8 times estimated earnings.
Bank of Canada policy makers kept their benchmark interest rate unchanged today and said stronger U.S. demand, a weaker currency and two rate cuts last year are leading the economy out of an oil slump.
The benchmark rate on overnight loans between commercial banks remained at 0.5 percent, in a decision released Wednesday from Ottawa. Global growth will pick up in 2016, Canada's job market remains resilient and stalling fourth-quarter growth was due to temporary factors, policy makers said.
Eight of the Canadian benchmark's 10 main industries declined. Shares of industrial companies fell 2 percent, led by Toromont Industries Ltd.'s 4.2 percent slump, the most in almost two years. With crude trading at a 12-year low, energy companies trimmed a decline of as much as 6.7 percent to close down 2 percent, at a level last seen in September 2004.
"It's not just stock prices, but the currency as well," Kaplan said. "The Canadian dollar is cheap, but we're still looking for a better valuation. It's hard to tell if the level is fully pricing in the oil price trend at this point. For those who don't have Canadian exposure, we're not sure it's time yet to buy."
The currency strengthened for the first time since Jan. 1 against its U.S. peer.
Paramount Resources Ltd. trimmed a 21 percent selloff, falling 5.8 percent to an 18-year low on news it may sell certain midstream assets. Similarly, Husky Energy Inc. tumbled as much as 14 percent, the most ever, after it said Tuesday it's suspending dividend payments and cutting spending. The stock ended the session down 3.3 percent.
Raw-materials companies rose 0.8 percent after a four-day selloff, led by gains of at least 8 percent for B2Gold Corp. and Kinross Gold Corp. Iamgold Corp. advanced 9.5 percent after an analyst at Raymond James upgraded the stock to market perform from underperform. New Gold Inc. rose 8.4 percent, the most in three months, after the company said 2015 gold output exceeded it's prior outlook.
Health-care companies also gained for a second straight day, adding 0.1 percent.