RENTS FORECAST TO INCREASE IN CANADA BY 3% IN 2021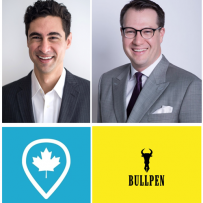 Bullpen Research & Consulting and Rentals.ca is forecasting rents will increase 3 per cent annually in Canada in 2021. Rents will continue trending downward in the first half of 2021 but start a slow recovery in the second half of 2021.
Forecasts for average monthly rent for five Canadian cities from December 2020 to December 2021 include Toronto, up 4 per cent; Montreal, up 6 per cent; Vancouver, up 3 per cent; Calgary, flat in 2021; and Mississauga, up 2 per cent.
Here's how average monthly rents for all property types did for the same five cities in November versus November 2019:
Toronto rents declined a whopping 20 per cent in November while increasing 8 per cent in November 2019. Montreal — up 3 per cent in November compared to a 15 per cent increase in November 2019. Vancouver — down 12 per cent in November  and up 7 per cent the same time last year. Calgary — flat in 2020 and down 5 per cent in 2019. Mississauga — down 13 per cent in November and up 8 per cent in November 2019.
Condominium apartments have seen the biggest drop among all property types this year with average monthly rents falling 19 per cent annually to $2,038 from $2,508 in November 2019.
Toronto and Vancouver continue to be the priciest cities for renters with Toronto leading the way on the list of 35 cities for average monthly rent in November for a one-bedroom home at $1,877. But monthly rents in Toronto for a one-bedroom have declined every month since January. Vancouver had the highest priced average monthly rent for a two-bedroom on the list at $2,636. Average monthly rent in Toronto for a one-bedroom is down 19 per cent year over year and down 17.2 per cent for a two-bedroom.
Quotes:
"2020 has been the most unpredictable year of my nearly 20-year career as a housing analyst…We expect the market to continue trending downward for the next four to six months nationally but start a slow recovery in the second half of 2021."  — Ben Myers, president of Bullpen Research & Consulting.
"Tenants looking for properties in urban settings in Canada had more choices in 2020, and for the first time in many years, landlords had to compete for renters and ramp up their marketing efforts."  — Matt Danison, CEO of Rentals.ca.
The National Rent Report charts and analyzes monthly, quarterly and annual rates and trends in the rental market on a national, provincial, and municipal level across all listings on Rentals.ca for Canada. This month's report charts rents for 35 cities across Canada.
Story by: Rentals.ca and Bullpen Research & Consulting