Canadian renters, it's your market now: 'There's never been a better time for a tenant'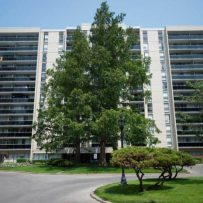 Story by: Garry Marr | Financial Post
For landlords there's no denying it: Apartment renters are in the driver's seat like never before, with the situation most obvious in Alberta where vacancy rates have spiked.
Canada Mortgage and Housing Corp.'s October rental report showed that vacancy rates have risen to 3.5 per cent nationally, from 3 per cent a year earlier, for purposed-built units (buildings with three or more apartments). For condominium units, rented out by investors, the national vacancy rate jumped from 1.6 per cent to 2.3 per cent.
Nowhere is the situation more dire than in the energy dependent provinces of Alberta and Saskatchewan. Alberta's vacancy rate jumped to 5.6 per cent from 2.1 per cent for purpose-built units while Saskatchewan's rose to 6.8 per cent from 4.1 per cent.
"It's the outcome of a weakened economy," said John Dickie, president of the Canadian Federation of Apartment Associations. "Alberta is a tenant's market. I'd be negotiating on a renewal. I'd be seeing if there's any softness in the asking rent."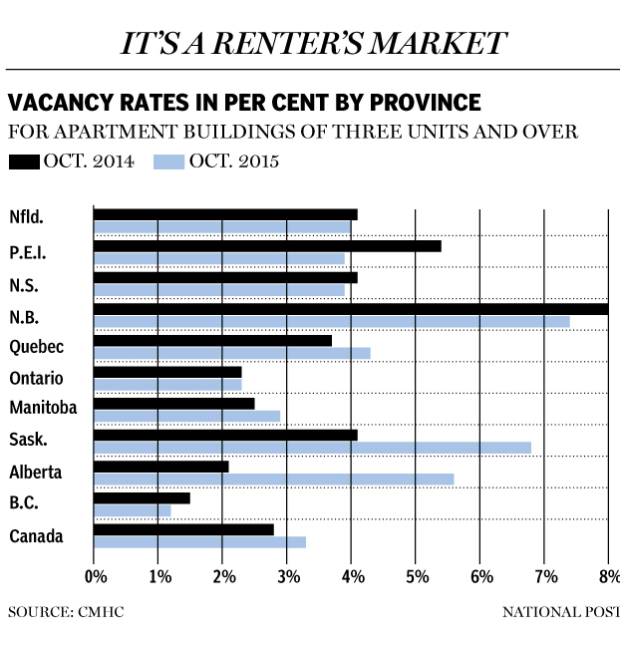 The lack of rent control in Alberta — the NDP government had mused about putting in some controls, but has backed off since gaining office — has created a potentially more volatile market for landlords.
Dickie said no rent controls mean there has been a greater tendency to build more but also a tendency to have higher vacancy rates. Now, landlords are more likely to drop their rents because they know they can raise them again, if the market heats up.
So far, rents have not adjusted to the new reality, but it's clear they have nowhere to go but down in some of the country's once sizzling apartment markets. The average two-bedroom purpose-built apartment in Alberta actually saw its rent jump to $1,253 a month from $1,238 a year earlier, while Saskatchewan rents dropped from $1,056 per month to $1,055 during the period.
Sam Kolias, the chief executive of the Boardwalk Real Estate Investment Trust, one of the largest landlords in the country with a majority of its net operating income derived from Alberta, said landlords will have to be ready to deal in the coming months.
"There is definitely slower demand and there's never been a better time for a tenant. It's a good time to be renting in Alberta," said Kolias, who wouldn't discuss his company's strategy ahead of operating results due out next week.
Boardwalk has mostly staved off the downturn in Alberta by offering deals to tenants, and had an average occupancy rate of 97.44 per cent as of June 2015. but that was down from 98.54 per cent a year earlier.
"When apartments get towards 30 days or more in vacancy, we offer specials and sales," Kolias said.
Nationally, average rents for a two-bedroom apartment climbed to $934 a month in October from $915 a year earlier for purpose-built buildings, but dropped to $1,487 a month from $1,554 for condominium units.
Even in Toronto's still strong housing market there are some signs of weakness. The condominium apartment vacancy rate rose to 1.8 per cent in October from 1.3 per cent a year earlier while the average rental rate for a two-bedroom condo unit fell to $1,754 a month from $1,818 a year earlier.
The weakness in Alberta's rental market comes as the province's resale housing market continues to suffer from a lack of activity. Sales in Calgary are down about 26 per cent over the first 10 months of the year with the dollar value of transactions off about $3 billion from a year earlier.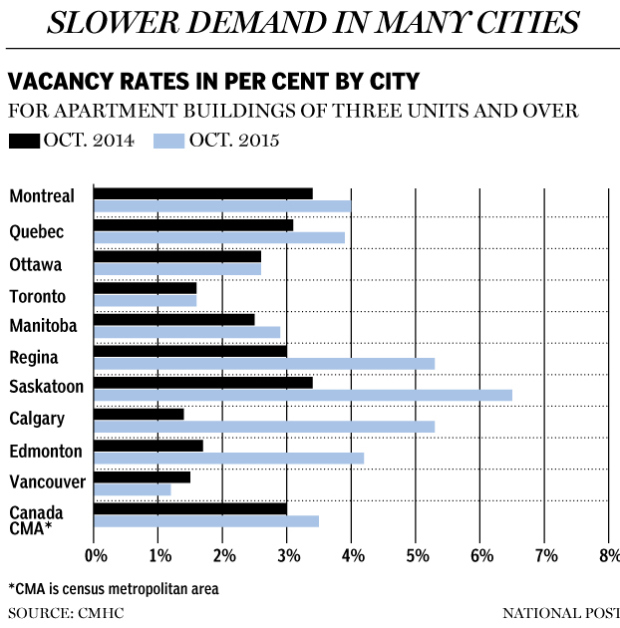 Douglas Porter, chief economist for the Bank of Montreal, said he considers the increase in the vacancy rate in Alberta to be a very big move.
"There are still people moving into Alberta (from out-of-province), but not close to the pace as before. Now you've got people (in Alberta) doubling up (on living arrangements), moving back home, moving in with friends," he said. "What's going on in Alberta isn't exactly normal. It's a little surprising to see the rental market take it on the chops, normally you'd expect the housing market to get the more immediate impact."