Canadian Property Investors Tap London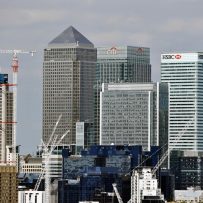 Story by: ART PATNAUDE | The Wall Street Journal
Real-estate investors from the Middle East and Asia have been snapping up trophy assets in London's commercial-property market. But there is another group on the prowl: Canadians.
On Monday, Canadian firm Ivanhoé Cambridge bought Stonecutter Court, a central London office building, for £112 million from Hines Global REIT. "We definitely want to be more present in London," said Meka Brunel, executive vice president at Ivanhoé Cambridge, which has been active in London for 20 years and owns just over £500 million of assets there. "We have the right deals in mind."
Meanwhile, Brookfield Property Partners LP, another Canadian property company, is bidding with state investment fund Qatar Investment Authority for Songbird Estates PLC, owner of London's Canary Wharf business district. Brookfield manages $95 billion in real-estate assets and bought a central London office block, Moorgate Exchange, for £211 million ($330.3 million) last week.
"We've been very focused on London," said Brookfield Chief Executive Ric Clark, noting the firm has been building up its team in London over the past two years. "There are a few very special cities in the world. London is high on the list."
Brookfield has been a shareholder in Songbird for more than a decade. The deal for Canary Wharf could move forward before year-end, although some people close to the talks said details were more likely to be finalized early next year.
One reason money from Asia or the Middle East often grabs the attention is because of the trophy assets that are bought.
Indeed, on Tuesday, investment firm Abu Dhabi Financial Group purchased New Scotland Yard, the headquarters of London's police force, for £370 million. The 600,000-square-foot site is to be redeveloped into luxury homes, a restaurant and health facilities by 2017.
Last month, a Brazilian firm bought the Gherkin, one of the most recognizable office towers in London's skyline. Chinese investors scooped up eight London properties for a combined $4 billion this year. The Qatar Investment Authority bought four buildings for a total of $1.5 billion, data from research firm Real Capital Analytics show. The Qatar investment fund is also lined up to close on HSBC Holdings PLC's global headquarters in Canary Wharf for more than £1.1 billion, in what would be the biggest real-estate deal in U.K. history.
Despite the attention focused on new buyers from the Middle East and Asia, North Americans, who have been present in the market for far longer, continue to dominate cross-border investments in London and around the world. Investors from North America pumped $39 billion into U.K. real estate in the past 24 months, according to Real Capital Analytics. London is the top destination, capturing $17.3 billion.
Investors from the Middle East bought $10.8 billion in the same period, with London getting $9.4 billion of that.
World-wide, U.S. and Canadian investors were first and second, respectively, in buying the most real estate abroad through the third quarter, real-estate broker JLL data show. Germany was third, followed by France and China.
During the first three quarters this year, "U.S. investors have spent double the amount of Chinese investors, and capital from Canada has surpassed $11 billion, twice as much when compared to the first three months of 2013," the JLL said.
For property investors, regardless of where they are from, London ticks many of the right boxes: laws that side with property owners, an expanding economy, and a market where it is easier to trade in expensive assets than almost anywhere else in the world.
In the deal for New Scotland Yard, the purchase was £120 million above the projected price. The sale was part of a drive by London officials to reduce costs.
Prime Minister David Cameron 's coalition government has cut spending on police by about 12% since it came to power in 2010, as part of sweeping cuts intended to reduce the U.K. budget deficit, Home Office figures show.
The commissioner of London's Metropolitan Police Service, Bernard Hogan-Howe, said funding was under extreme pressure. He said the service has to make cuts equivalent to a third of its original budget, "so this money is absolutely vital to us."
The sale of New Scotland Yard is part of an overhaul of London's police real-estate holdings that will see a total of about 200 buildings sold by 2017. The mayor's office hopes the sales will cut annual costs by about £60 million, enough to fund 1,000 officers. Fifty-two of those sites have been sold and 55 leases terminated since 2013, raising £215 million.
The proceeds are mainly due to go toward funding the new, smaller headquarters for Scotland Yard and equipping police with the latest mobile technology and software, according to London Mayor Boris Johnson. A small portion of the proceeds will also be used to relocate Metropolitan Police artifacts and memorabilia to a dedicated museum, the mayor's office said.
—Nicholas Winning contributed to this article.
Write to Art Patnaude at art.patnaude@wsj.com