Canadian Inflation Steady As Energy Costs Plunge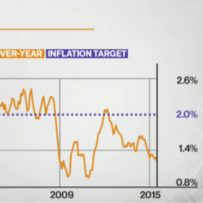 Story by: CP  |  By The Canadian Press
Canada's inflation rate in August was 1.3 per cent, unchanged from the previous month, as a drop in energy prices continued to be a moderating force that offset higher prices for most consumer goods and services, Statistics Canada reported Friday.
The main inflationary pressures on the consumer price index last month came from food costs and household operations.
Consumers paid 3.6 per cent more for food in August compared with the same month a year ago, Statistics Canada reported.
It said prices for food from restaurants was up 2.8 per cent and food bought from stores was 4.0 more expensive than a year ago _ although Statcan said there was some relief for meat eaters.
"While meat prices increased 6.3 per cent in the 12 months to August, beef prices declined on a month-over-month basis for the second consecutive month," Statscan said.
Its index for household operations, furnishings and equipment increased 2.5 per cent in the 12 months to August.
However, Statcan said lower prices for telephone services helped reduce household inflation compared with July, when the household operations, furnishings and equipment index was up 3.3 per cent.
A 2.3 per cent decline in the transportation index offset increases in most of the other components of the consumer price index. The gasoline index within transportation was down 12.6 per cent, continuing a trend that began late last year, and prices for new passenger vehicles increased less in August than in July.
The Bank of Canada's core index, which excludes some of the most volatile items, was up 2.1 per cent from a year ago.
The Statistics Canada report was in line with analyst estimates.