Canadian housing starts fall in December as condo construction plummets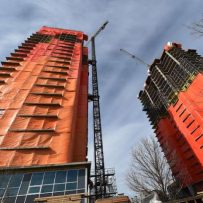 Story by: Craig Wong, The Canadian Press
Housing starts in Canada ended 2015 at a slower pace than expected as the rate of new condominium construction slowed in Toronto.
Canada Mortgage and Housing Corp. said Monday housing starts in December came in at a seasonally adjusted annual rate of 172,965 homes, down from 212,028 in November.
Economists had expected an annual pace of 200,000, according to Thomson Reuters.
December's slowdown came as the rate of urban starts fell 19.1 per cent in December to 159,007 units.
Multiple urban starts, which includes condominium construction as well as other multi-unit homes, dropped 27.0 per cent to 101,264, while single-detached urban starts held steady at 57,743.
"Toronto was the big mover in December, with condo starts plunging to the lowest since September 2014," Bank of Montreal senior economist Robert Kavcic wrote in a report.
"This is hardly bad news, and even a relief for policy-makers after starts were running too hot for comfort earlier in the year.
Overall, the pace of urban starts fell in the Prairies, Ontario, and Atlantic Canada, but increased in British Columbia and Quebec.
Kavcic noted that Canadian homebuilding was very modestly higher in 2015, but the relatively stable national numbers hid the shifts below the surface.
"We suspect that 2016 will continue to see weakness in the Prairies mostly offset by solid residential building conditions in markets such as Toronto and Vancouver," he said.
The Canadian housing market is being closely watched by economists for signs of slowing. Low interest rates have helped fuel demand in some markets, however the drop in oil prices have hurt others.
TD Bank economist Diana Petramala said TD expects housing starts nationally to dip back to below 180,000 units through 2016, following an average of 181,598 over 2015.
"With the drop in starts in December, the level of new home construction moved from a too-hot for comfort pace, to one more in line with underlying economic and demographic fundamentals," Petramala said.
The Canadian Real Estate Association has forecast average house prices in Alberta, Saskatchewan and Newfoundland and Labrador to fall this year.
However, the industry association has predicted the national average house price is expected to gain 1.4 per cent in the year.
Canada Mortgage and Housing said rural starts were estimated at a seasonally adjusted annual rate of 13,958.
The six-month moving average of housing starts was 203,502 units in December compared with 208,204 in November.