Canadian housing boom is over — except in Hot 3 cities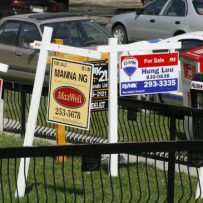 Story by: Susan Pigg Business Reporter, TheStar.com
Toronto, Vancouver and Calgary unlikely to see downturn in house prices until interest rates rise: BMO
The housing boom is now over for most Canadian cities, with the exception of the "Hot 3" — Toronto, Vancouver and Calgary — which are unlikely to see a downturn until interest rates tick upward, according to a new housing report from BMO Economics.
"Strong demand and lean listings" in those three cities have continued to push prices higher while most other major Canadian markets, from Montreal to Ottawa to Saint John, are now seeing house prices flatline or even sink, says Sal Guatieri, senior economist with BMO Capital Markets, in a report released Friday.
A few cities have already "caught a chill," such as Regina, where house prices are down 2.4 per cent year-over-year, and Victoria, where they have dropped 9 per cent since 2010, notes Guatieri.
"The housing boom that began early last decade effectively ended with the 2008 recession and several turns of the mortgage-access screws," he says, noting that "most regions won't regain their former pep, as interest rates are likely to climb next year."
Small interest-rate hikes, likely to start late next year, aren't expected to be enough to chill the Hot 3.
"We're probably talking 2016 when we should expect to see some correction in Toronto and Vancouver prices," Guatieri added via email.
Any price declines would likely be more moderate in Calgary, since it faces less of an affordability issue than Canada's two priciest markets, he notes.
Unrelenting house price growth in the Hot 3 is being driven, to varying degrees, by five factors, according to the housing report:
Population growth: The combined population of Toronto, Vancouver and Calgary has risen twice as fast — 23 per cent compared to 11 per cent — of most other regions over the last decade, driving strong demand and increasing competition for housing.
"The youth movement": The highly competitive, house-buying cohort of echo boomers — the grown children of baby boomers who fuelled the last big surge of house prices in the 1980s — is growing at 1.8 per cent, compared with the general population at 1.1 per cent.
Employment growth: Even with some recent softening, job growth is now running at over 2 per cent in Calgary and more than 3 per cent in Vancouver, compared with 1.1 per cent across the rest of the country. Toronto has seen some recent downturn, but after growing 2 per cent in the spring and 4 per cent last year, notes Guatieri.
Foreign investment: This has been a significant driver in Vancouver and to a lesser extent Toronto, as buyers from Asia, Russia, the Middle East and other countries with a growing middle- and upper-class look for hard assets such as condos and high-end homes in stable foreign lands.
Record-low interest rates: Here is the good and the potentially very bad for the housing market.
Low rates have fuelled a frenzy of housing buying over the past decade, but there could also be some real pain ahead as they start to rise.
The report notes that a typical Vancouver family now has to spend 62 per cent of family income on the average bungalow. That would jump to a stunning 75 per cent of their income if rates rise just 2 percentage points, says the report.
In Toronto, the impact would be somewhat less severe — from the current 42 per cent of income to 50 per cent.
In Calgary, affordability isn't likely to be an issue if rates rise, given that a mortgage on the average bungalow now eats up only 23 per cent of income.