Canadian homeowners versus renters: Is there a difference in average household income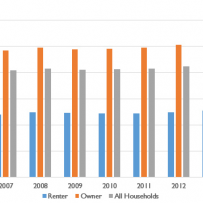 Canadian homeowners' average before-tax household income was about double that of renters between 2006 and 2014
According to new and revised data from Statistics Canada's Canadian Income Survey and Survey of Labour and Income Dynamics, the average before-tax household income, adjusted for inflation, increased 10.1% from $79,200 in 2006 to $87,200 in 2014. Homeowners' average household income increased from 2006 to 2008, fell from 2008 to 2009, then increased from 2009 to 2014. For renters, the increase was from 2006 to 2008, the decrease between 2009 and 2011, and continuation of the upward trend was from 2012 to 2014.
Canadian homeowners' average household income was roughly double that of renters throughout the 2006 to 2014 period. However, renters' average household income grew more between 2006 and 2014 with a 12.2% increase compared to 9.8% for homeowners.
In 2014, Alberta had the highest average provincial household income at $116,400 while New Brunswick had the lowest at $70,800.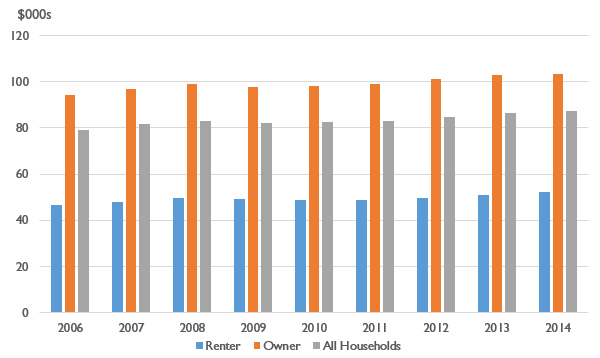 1Canadian Income Survey and Survey of Labour and Income Dynamics include all individuals in Canada except residents of Yukon, the Northwest Territories and Nunavut, residents of institutions, persons living on reserves and other Aboriginal settlements in the provinces and members of the Canadian Forces living in military camps. Overall, these exclusions amount to less than 3% of the population.
Source: Statistics Canada (Canadian Income Survey) 2012 – 2014; Survey of Labour and Income Dynamics 2006 – 2011