Canadian Dollar Soars To 4-Month High On News Of New USMCA Trade Deal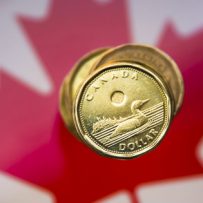 NAFTA's replacement leaves much of the old trade pact intact, a relief for markets.
The Canadian dollar strengthened to a four-month high against its U.S. counterpart on Monday after a last-minute deal to salvage the trilateral NAFTA trade pact supported bets for another Bank of Canada interest rate hike as soon as this month.
The new United States-Mexico-Canada Agreement (USMCA) largely leaves the broad North American Free Trade Agreement intact and maintains current supply chains that would have been fractured under weaker bilateral deals.
"This deal, along with last week's solid run of data, all but cements a rate hike later this month, and will likely add an extra move next year," Robert Kavcic, a senior economist at BMO Capital Markets said in a research note.
The Bank of Canada has raised interest rates four times since July 2017. Chances of another hike in October have climbed to 84 percent from 77 percent before data on Friday showing stronger-than-expected domestic economic growth in July.
At 9:20 a.m. ET, the Canadian dollar was trading 0.7 percent higher at C$1.2816 to the greenback, or 78.03 U.S. cents.
The loonie, which posted on Friday its biggest gain in four months, touched its strongest since May 22 at 1.2788.
A report that Royal Dutch Shell Plc and some partners have approved a $31 billion liquefied natural gas project in western Canada could also provided support for the loonie.
The price of oil, one of Canada's major exports, was supported by supply concerns before U.S. sanctions against Iran come into force next month. U.S. crude prices were up 0.1 percent at $73.31 a barrel.
Canada's jobs data for September and August trade data are due on Friday.
(Reporting by Fergal Smith; Editing by Susan Thomas)