Canadian developer shares details of mega project in Seattle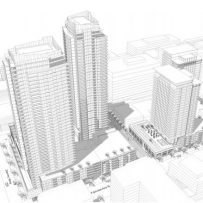 Four towers up to 400 feet tall would rise from a prominent corner in Seattle's South Lake Union area under a proposal put forth by a Canadian developer.
This week an official of the company, Onni Group, answered questions about the proposal that Onni is calling the Seattle Times project. It's named for the Fairview Avenue North and John Street location where The Seattle Times newspaper operated for eight decades before selling two blocks to Onni and moving to nearby leased space several years ago.
Located between Denny Way and Thomas Street and between Fairview and Boren avenues north, the project will have around 1,945 apartments in four buildings: two will be 400 feet tall and two will be 240 feet tall. There will be retail space in the two podiums, and 1,700 underground parking stalls.
That's a huge scope — the largest residential project in the city — and Onni plans to phase the development, said company Development Manager Evan Lewis, who responded to questions by email. "We would like to commence construction as soon as we are able to obtain permits," he said.
Onni hasn't decided whether to make the development a for-sale or for-rent project. Lewis said the company is designing all the units to "a condominium standard to allow flexibility for them to be either condominiums or apartments."
For such a big project, it has not generated much controversy. Neighbors are upset, however, by the possible loss of the private Seattle Times Park, a shaded green space at Fairview and John. An article about that is in the May 16 edition of the Puget Sound Business Journal (subscription required).
Story by: Marc Stiles