Canadian companies bet on rentals amid record immigration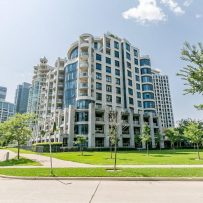 Bentall Kennedy LP, the real estate arm of insurer Sun Life Financial Inc., is boosting its exposure to rental apartments as immigration in Canada's biggest city booms.
The Toronto-based firm, which managed $22 billion of assets in Canada as of September, plans to increase multi-residential investments to about 15 per cent of its portfolio from below 10 per cent, according to Doug Poutasse, head of strategy and research at Bentall.
The "Canadian economy peaked but it is not necessarily coming off that peak, so we're really at a very good spot right now," Poutasse said in an interview at Bloomberg's Toronto office. "The thing that we're tracking, that's the most positive, is the immigration population growth — it's really accelerating."
Canada is going through its biggest surge in international immigration on record with almost 100,000, or about a quarter, of those landing in Toronto in the year through July. That helped send rents for purpose-built units up 17 per cent in the third quarter over the same period the prior year, according to research firm Urbanation Inc. Companies including GWL Realty Advisors Inc. and Tricon Capital Group Inc have also been expanding in the sector.
"Rents are still growing nicely — in fact, probably too strongly," Poutasse said. "As a landlord, we like strongly, but for people, six, seven and eight per cent rent increases are very difficult."
Fancy Towers
Part of the increase has been due to rising construction costs amid labour shortages, zoning delays, spiralling material costs and rising interest rates. Land prices have also soared amid a boom in luxury condo developments.
Condos had previously been going for around the $300,000 range, a perfect price for the working population and replacing what would otherwise be purpose-built rental, Boston-based Poutasse said. "When you move off and it becomes your fancy or big towers, there's only so many of those a city needs and it translated through into land prices."
Rising costs and regulatory delays have also led to several cancellations in the condo market as builders scrapped developments citing problems with construction financing despite sold-out projects.
"There's only so long you can absorb ever-increasing land costs and not have a few projects fall out," Poutasse said. "The good news is, that from what I know so far, they're falling out at the, 'We're not going to break ground stage,' not the, 'I've got a 60-story tower that's sitting here empty and the bank is auctioning off the units.' And we look at it as opportunities."