Canadian building permits drop again in February, but multi-family sector shows strength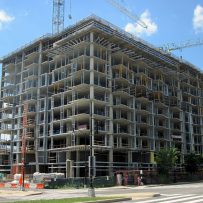 Story by:  Sean MacKay | BuzzBuzzHome
Following a double-digit decline in January, building permits issued by Canadian municipalities fell again in February over the previous month.
According to new data released today by Statistics Canada, Canadian municipalities issued building permits worth $6.1 billion in February, a 0.9 per cent drop from January. The government agency attributed the decline at the national level to lower construction intentions in Quebec, Ontario and Alberta. It was the second consecutive monthly decline in building permits issued.
While permits issued for both residential and non-residential buildings dropped in January, the February data saw the two sectors diverge, with lower construction intentions in the non-residential sector contributing to most of the month's weakness.
The value of residential building permits issued in February climbed 1.5 per cent to $4.1 billion after a 8.1 per cent decline in the previous month. Quebec, British Columbia and Nova Scotia saw the most notable increases in building permit value while Ontario saw the largest decline on the residential side.
Permits for multi-family dwellings rose in value by 20.7 per cent to $1.8 billion putting an end to four straight monthly declines. Every province saw an increase in building permits issued in February with the exception of Ontario. Quebec saw the largest rise, followed by British Columbia.
On the single-family dwellings side, permits declined in value by 9.6 per cent to $2.3 billion, halting two straight months of increases. Every province saw a decline in permits issued except Nova Scotia which Statistics Canada said saw a slight increase.
At the national level, the construction of 15,133 new dwellings were approved by Canadian municipalities in February, 2.7 per cent rise from January. The increase was a result of strength in the multi-family sector.
Turning to the non-residential sector, Canadian municipalities issued $2 billion worth of permits in February, down 5.4 per cent from January. This was the second decrease in three months. Ontario and British Columbia posted the strongest gains while Quebec and Alberta accounted for most of the decline in non-residential construction building permits.
If you're looking for more Canadian real estate market news, check out the latest Sotheby's report on why wealthy Baby Boomers may not be as interested in downsizing as everyone thinks. When you're done with that, read up on how much first-time buyers across Canada paid for their homes.