Canada's Unemployment Rate Jumps To 6% As Country Sheds 52,000 Jobs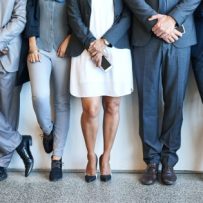 Ontario led the way with a very large loss of 80,000 jobs. The momentum in Canada's job market is fading.
The country's unemployment rate rose to 6 per cent in August, from a four-decade low of 5.8 per cent the month before, recording a surprise loss of 51,600 jobs, Statistics Canada said Friday.
Economists had been expecting an increase of around 5,000 jobs for the month.
The losses almost completely erased the 54,000 jobs created in July. Ontario led August's drop, shedding 80,000 positions during the month. The province's unemployment rate rose to 5.7 per cent, from a decades-low of 5.4 per cent the month before.
"Excluding Ontario, the results were not bad at all, with all provinces to the west posting gains, and Quebec down only modestly," Bank of Montreal economist Robert Kavcic wrote in a client note.
Ontario's losses were offset by job gains in Alberta (up 16,000) and Manitoba (up 2,600). Employment was little changed elsewhere, StatCan said.
Compared to a year earlier, Canada's job situation still looks strong. There were 326,000 more full-time jobs in Canada in August than a year earlier, up 2.2 per cent, while part-time work dropped by 154,000 in that time. That suggests better job quality.
But the momentum seems to have fizzled in recent months. In a client note Friday morning, Bank of Montreal economist Benjamin Reitzes noted that Canada added a net total of only 37,000 jobs in the first seven months of 2018. With August's numbers, that implies Canada is now down 15,000 jobs since the start of the year.
The details of August's job numbers are "a mess," in the words of TD Bank economist Brian DePratto. He noted that full-time work actually rose by about 40,000 jobs during the month (offset by a much larger loss in part-time jobs).
"This is now the third month in a row with softening wage growth," DePratto wrote in a client note. After passing the 3-per-cent market earlier this year, wage growth slowed to 2.9 per cent in August, which DePratto said is "more or less in line with the historic average — not cause for concern necessarily, but also not cause for celebration."
Analysts generally agreed that this month's weak job numbers will not stop the Bank of Canada from raising interest rates in October.