Canada's Unemployment Rate Drops To Lowest Level In 9 Years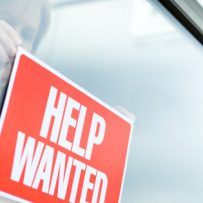 OTTAWA — The economy added nearly 11,000 jobs in July, the eighth consecutive month of growth, as the unemployment rate fell to its lowest point in nearly nine years, Statistics Canada said Friday.
The pace of job growth slowed, however, with 10,900 net new positions, down from an increase of 45,300 in June. The number of full-time jobs grew by 35,100, offset by the loss of 24,300 part-time jobs.
The unemployment rate declined by 0.2 percentage points to 6.3 per cent, its lowest level since October 2008 as the number of people looking for work dropped.
"After a run of huge gains, nobody is going to complain about the more moderate hiring pace that Canada saw in July, and the attention instead will focus on yet another drop in the jobless rate," Avery Shenfeld, chief economist of CIBC Capital Markets, said in a note to clients.
"The two tick drop to 6.3 per cent in that measure was mostly a story of weaker labour force participation, although the 11K increase in employment was buttressed by a hefty 35K gain in full-time jobs."
The wholesale and retail trade sector gained 22,000 jobs, information, culture and recreation added 18,000 and manufacturing saw an increase of 14,000. Jobs in educational services dropped 32,000, mainly in Ontario and Alberta.
Regionally, employment in Ontario and Manitoba rose by 26,000 and 4,800, respectively. Alberta lost 14,000 jobs, Newfoundland and Labrador shed 5,300 positions and Prince Edward Island dropped by 1,000.
Compared with a year ago, the number of jobs increased by 388,0000, driven by an increase in 354,000 full-time positions.
The labour force numbers came as Statistics Canada also reported that the country's trade deficit rose to $3.6 billion in June from a shortfall of $1.4 billion the previous month. Exports fell 4.3 per cent to $46.5 billion, while imports climbed 0.3 per cent to $50.1 billion.
"The wider trade deficit might be seen as a slight negative for the (Canadian dollar), but the tight jobless rate will keep chatter alive about an October rate hike," Shenfeld added, referring to speculation that the Bank of Canada could hike its key benchmark interest rate again.
Last month, the central bank raised the rate to 0.75 per cent, the first increase in almost seven years.