Canada's rental unit landscape witnessing a resurgence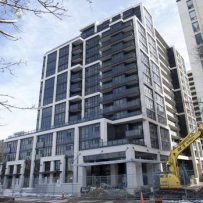 Story by: TAMSIN MCMAHON – REAL ESTATE REPORTER | The Globe and Mail
The skylines of Canadian cities, long defined by condominiums, are undergoing a quiet transformation as rental housing makes a comeback.
There were nearly 24,000 rental units under construction across Canada in the second half of last year, up 52 per cent from a year earlier, according to commercial real estate brokerage CBRE Group Inc.
Across Canada's six biggest cities, rental starts are double their five-year average. In Toronto, there are 21 rental apartment buildings under way, up from 12 two years ago. Official statistics likely under-count the real picture, since many developers still register their projects with local governments as condos even when they plan to build them as rentals.
A constellation of factors is helping to drive the resurgence of apartment construction after nearly 40 years without any significant new investment: Low interest rates have finally made rental construction cheaper, rising rents and worries over the future of the condo market have condo developers now considering rentals, and unaffordable home prices are pushing more Canadians toward renting.
"Canada is at the early stages of a new apartment construction renaissance, really," said Derek Lobo, CEO of Rock Advisors Inc., a brokerage that specializes in apartments.
The market appears poised for explosive growth this year as pension funds, insurance companies, real estate investment trusts and other large investors pile into the apartment sector in search of safe assets with a stable cash flow.
"You have big pension funds in Canada that want to grow their real estate allocations over the next five years by $5-billion, $10-billion or $20-billion," said Adam Kosoy, senior managing director at real estate services firm Colliers International Canada.
The insatiable appetite for rental buildings has helped prices soar over the past decade.
Nationally, rental buildings now sell for an average of $125,000 per unit, up from around $86,000 in 2006, according to CBRE Canada.
Most of the country's rental stock is old, dating back 50 years as developers largely abandoned the rental market in favour of condos. With intense competition for the few high-quality rental buildings that are hitting the market, many large institutional investors are now looking to build instead.
"The philosophy for a lot of investors out there is, if I can't buy it, I'll build it," said Paul Morassutti, CBRE executive managing director.
Earlier this year retail giant RioCan Real Estate Investment Trust announced plans to spend as much as $6-billion constructing 19,000 rental units over the next decade. The company is planning to demolish up to 50 existing retail locations, mostly close to transit in Toronto and Calgary, and rebuild them as mixed-use rental projects.
RioCan CEO Ed Sonshine has been eyeing the rental market for two years, under pressure from condo developers to partner in urban intensification projects. Rental apartments fit better with the company's business of creating steady cash flow for investors.
"For us it was a no-brainer. We were never really interested in the condominium market," he said. "The beautiful thing about rental housing is you don't have to reinvent it every three years."
Rental construction has traditionally been a riskier proposition for developers, since they can't rely on presales to help finance construction and don't know how much demand there will be from renters until after they've finished building. Rentals typically take 20 to 30 years to pay for themselves, compared with two or three years for a condo project.
But with value of rental properties skyrocketing, many developers are finding they can make nearly as much money from selling a rental building to a single large investor than from selling hundreds of condo units to individual buyers.
Fears that the condo market might be hitting its peak have also pushed more builders to consider rentals.
"To some extent the interest is being driven by condominium developers who have seen sales slow, and they see apartments as an alternative way to feed the machine they've built," apartment broker Mr. Lobo said.
Already this year two condo projects in Toronto have converted to rentals after being snapped up by institutional buyers.
"The rental market is really hot right now. It's sizzling," said Joe Cordiano of condo developer Cityzen Development Group, which received an unsolicited offer from an institutional investor to convert a downtown Toronto condo project to rental. The company is now considering other rental projects after receiving other offers from investors, he said.
Even Toronto's "condo king" Brad Lamb has turned to the rental market, recently selling a $90-million condo project called the Bronson in Ottawa to an investor. When Mr. Lamb unveiled the project in 2013, Ottawa's condo market was booming, but it has cooled off amid a glut of new construction.
"By the time we had closed on the project the market had shifted significantly," said Ben Myers of Fortress Real Developments, which was financing the project. "A lot of projects came in on a few years and it was just too much."
Until recently, many developers were scared off by the prospect of building rental housing over fears interest rates would soon be rising, pushing up the cost of construction. But with the Bank of Canada slashing interest rates earlier this year, that fear is now gone. "The environment to get these deals done is much better today than it was even a year ago." said Mr. Morassuitti.
Low interest rates are the single most important reason why rentals are making a comeback, said Ian Gillespie, president of Westbank Projects Corp., which this month announced plans to build 1,000 rental units as part of its development of Toronto's Mirvish Village.
The company has as many as 4,000 rental units in development and plans to do more.
But without support from municipalities and higher levels of government to invest in new rental housing, the opportunity to build rentals may be short if interest rates rise, he said.
"The only reason this housing is being built right now is because we have these historically low interest rates," Mr. Gillespie said. "When these interest rates go up, this window slams shut and we'll be sitting here 15 years from now saying, 'Oh my god, there's no more rental housing being built.'"