CANADA'S RECOVERY GAINS MOMENTUM BUT NEW THREATS CLOUD OUTLOOK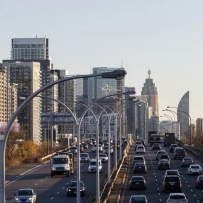 Canada's economy grew at an annual rate of 5.4 per cent in the third quarter, a strong showing that should keep the Bank of Canada on track to raise interest rates in the first half of 2022.
Enthusiasm about the rebound from a second-quarter contraction will be dulled by revisions that show gross domestic product (GDP) declined at an annual rate of 3.4 per cent between April and June, not Statistics Canada's initial estimate of a drop of 1.1 per cent.
Still, the recovery from the COVID-19 pandemic regathered momentum as health restrictions were relaxed, just as policy-makers at the central bank assumed it would. They predicted last month that GDP would expand at an annual rate of 5.5 per cent in the third quarter, before slowing to a rate of four per cent over the final three months of the year.
The outlook for the fourth quarter is now in doubt, since early estimates predict the extreme flooding in British Columbia could turn out to be the most expensive natural disaster in Canadian history. Economists at Desjardins last week predicted Canada's economy likely contracted in November, but it will rally in December as companies and governments clean up the damage in B.C.
COVID-19 could also wreak havoc in December, and perhaps even longer. Sébastien Lavoie, chief economist at Laurentian Bank Securities, raised the prospect of a W-shaped recovery from the recession as stock markets plunged again amid uncertainty over the Omicron variant. Exports were a bright spot in the third quarter, led by producers of oil and natural gas, which benefited from resurgent energy prices. A fifth wave of COVID-19 restrictions would curb global demand, a big reason why crude prices in the United States are now closer to US$70 per barrel, down from around US$80 per barrel at the start of November.

Near-term uncertainty will be made easier knowing that the economy has plenty of momentum. A separate Statistics Canada report showed that monthly GDP as measured by industrial output increased 0.1 per cent in September to $1.98 trillion, about 1.4 per cent below its level in February 2020. Statistics Canada said preliminary information suggests GDP grew 0.8 per cent in October, which would be an unusually large month-to-month gain.
Consumers led the rally from a weak spring, as household spending on semi-durable goods surged 14 per cent from the second quarter, while services jumped 6.3 per cent, Statistics Canada said.

Spending numbers of that sort show there is lots of consumer demand, justifying both the federal government's decision this fall to end most emergency COVID-19 benefits, and the Bank of Canada's decision in October to stop creating money to buy bonds. Government payments represented 25 per cent of compensation in the third quarter, the lowest since a peak of 44 per cent in the second quarter of 2020, but still elevated compared with the pre-pandemic level of about 20 per cent.

"With the easing of health restrictions, households were able to unleash pent-up demand," Matthieu Arseneau and Alexandra Ducharme, economists at National Bank, said in a note to their clients. "We remain optimistic that the recovery will continue in a context where consumption of services is still short of its pre-recession level. This is especially true as consumers are currently in good financial shape."
Workers benefited from stronger hiring and widespread job vacancies, which put upward pressure on wages. Compensation paid to employees rose 2.9 per cent, the second-biggest increase since 2000, Statistics Canada said. The savings rate was 11 per cent, suggesting households still have a healthy cushion, no matter what the new COVID-19 variant brings; the rate dropped from 14 per cent in the second quarter, but still exceeded pre-pandemic rates by a considerable margin.

"The economy took a bigger step back earlier in the year than first estimated, but then took a bigger step back up in recent months," said Douglas Porter, chief economist at Bank of Montreal. "This rebound, combined with the pop in services spending and the still-strong level of savings cushion, suggests that the economy had solid underpinnings heading into the winter."
All things equal, that leaves the Bank of Canada on track to raise interest rates in early 2022. Facing year-over-year increases in the consumer price index that are more than double its inflation target, the central bank in October advanced its guidance for when it would start considering an interest-rate increase by three months, to the second quarter of next year. Omicron is a wild card, but the economy has become better at coping with the pandemic with each successive wave of infections.

"We expect economic activity to remain robust in the coming quarters," said Charles St-Arnaud, chief economist at Alberta Central. "How strong will depend on households' willingness to spend the money saved during the pandemic and how quickly disposable income will return to its pre-pandemic trend."
Story by: Financial Post