Canada's Pot Industry Is Hungry for Real Estate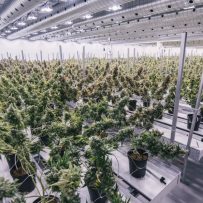 Canada's industrial real estate sector is as hot as it's ever been and the legalization of recreational pot will only add to the demand.
The country's eight biggest weed companies will require more than 8 million square feet of space for growing marijuana by 2020, up more than fivefold from current levels, according to a report from brokerage Jones Lang LaSalle Canada. The estimate, which excludes logistics and distribution centers, would be about the size of Amazon.com Inc.'s Seattle headquarters, which houses about 40,000 workers across multiple buildings.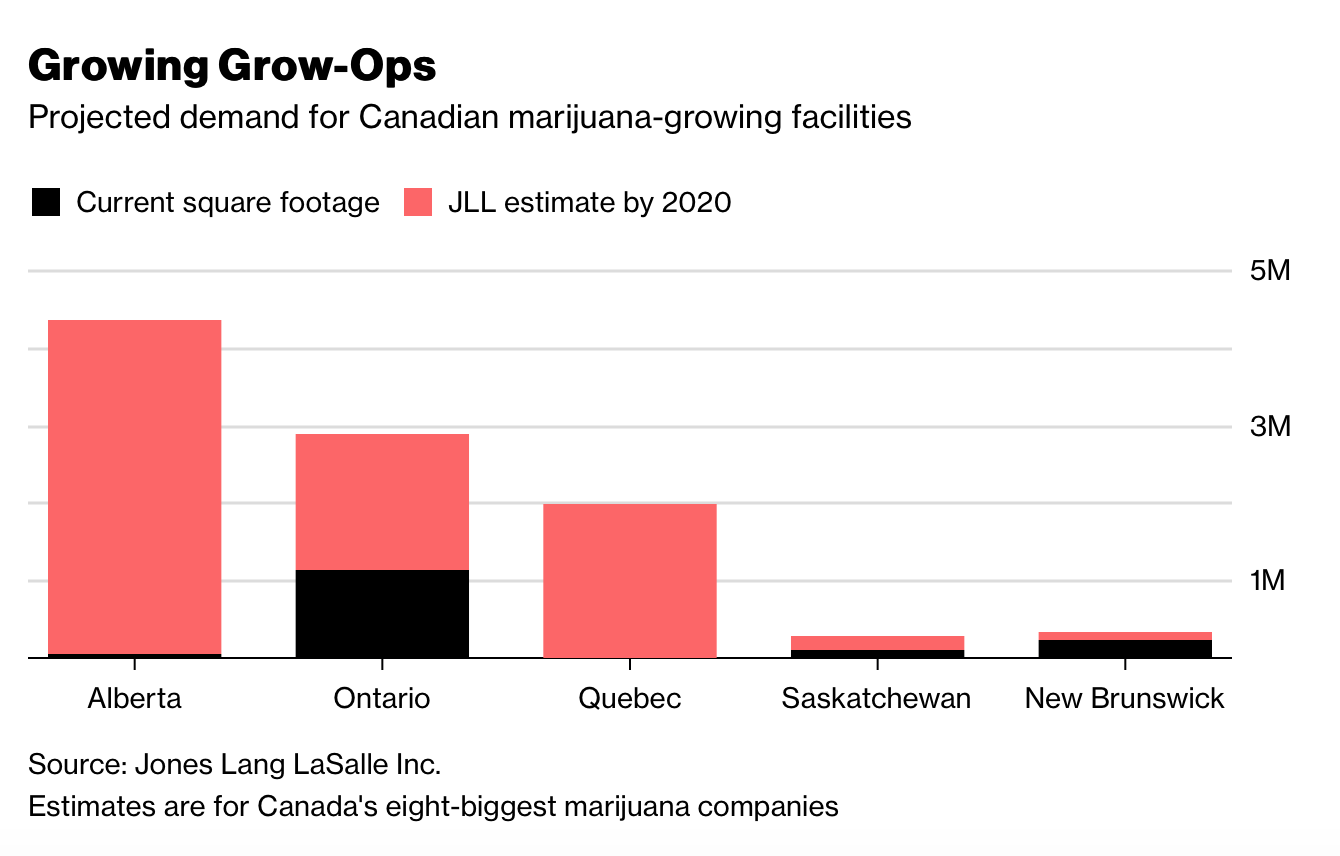 Canada in August or September is slated to become the first Group of Seven country to legalize pot for recreational use nationally.
The country's burgeoning pot industry, which includes about 85 companies with a combined market value of about C$30 billion ($23 billion), will put more pressure on the country's stock of industrial real estate amid a booming economy and the shift to online shopping. The industrial vacancy rate hit 3.9 percent at the end of 2017, the lowest since 2001, with rents up 15 percent in Vancouver and 7.3 percent in Toronto from 2016, according to Cushman & Wakefield.
"Industrial is as hot as anything you can imagine," said Altus Group Ltd. CEO Robert Courteau in an interview at Bloomberg's Toronto office. Whether it be the rise of Amazon or marijuana, all of these are "another level of aggravation on unavailable assets."
Greenhouses Eyed
Canada can look south of the border to see how the push for legal pot sent rents soaring. Cannabis companies paid a premium of about $12 to $18 a square foot for industrial space in around Portland, Oregon in 2016 compared with regular market rates about $5. In Colorado, growers have paid almost 10-fold the going rate for first-rate spaces.
Canadian weed companies are taking different approaches to real estate. Vancouver-based Aurora Cannabis Inc. builds its own facilities from the ground up so that the company can "precisely control all variables," Chief Corporate Officer Cam Battley said in an interview. Smiths Falls, Ontario-based Canopy Growth Corp., the biggest publicly traded cannabis producer globally, used to hunt mainly for massive, empty industrial warehouses but they've started looking at outdoor greenhouses because it reduces costs, said spokesman Jordan Sinclair by phone.
Nonetheless, the spillover from expanding pot companies will also impact retail and office spaces long-term, JLL said.
"This will be even bigger than the end of prohibition of alcohol, because we have so many more people, acceptance and technology," said Gaurav Mathur, research manager at JLL. "Canada has a long runway of growth up ahead."