Canada's housing agency warns about overbuilding as housing starts surge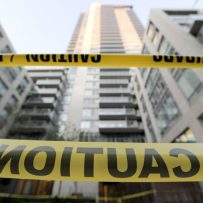 Story by: Greg Quinn, Bloomberg News
Canada's housing agency warned against overbuilding after a surge in condo and apartment projects took housing starts to a three-year high.
Work on new homes advanced 7.7 per cent to 230,701 units at an annual pace in September, the Canada Mortgage & Housing Corp. said Thursday from Ottawa.
Urban multi-unit projects such as condominiums and apartments increased 10.5 per cent to 157,919 units, and single-family houses by 0.8 per cent to 58,275 units.
Homebuilding now exceeds the agency's forecast for 190,000 new households to be created this year, and suggests companies must guard against a glut of properties they can't sell fast enough, CMHC chief economist Bob Dugan said in the report.
There is a "continuing need for inventory management to minimize the number of completed but unsold units," Dugan said.
The lowest mortgage rates in decades and the surge of Toronto and Vancouver prices beyond the million-dollar mark have already led policy makers to tighten mortgage rules and warn about record consumer debt loads.
Economists surveyed by Bloomberg had forecast the pace would decline to 202,000 units.
CMHC revised its nationwide August starts figure to 214,255 from an earlier reading of 216,924 units.

'Moderation' ahead
Starts in Vancouver rose to 18,097 units in September from 16,723, including a 10.7 per cent jump in multiple-unit work to 1,245 units. In Toronto starts fell to 58,113 units from 65,115 in August, led by apartments and semi-detached homes.
However, the number of housing starts in the Calgary region, particularly in the single-detached market dropped significantly from 2014 levels.
The agency said there were 309 starts for single-detached homes in the month — down by 36.4 per cent from a year ago — while the multi-family market saw a decline of five per cent, to 990 starts.
Continuing need for inventory management to minimize the number of completed but unsold units
Total starts in the Calgary census metropolitan area of 1,299 for the month decreased by 15 per cent.
Richard Cho, CMHC's principal market analyst for Calgary, said "the decline is due to an increase in the number of new homes available, active listings in the resale market and weaker labour market conditions."
There are some signs the housing market may slow from here in a year where the economy has been weakened by a drop in energy exports and investment. On Wednesday, Statistics Canada said new building permits for housing fell by 5.1 per cent in August.
That "suggests a moderation in starts over the coming months to more sustainable levels," Krishen Rangasamy, senior economist at National Bank Financial in Montreal, wrote in a research note.
With files from Calgary Herald
Bloomberg.com