Canada's central bank could pull a U-turn on interest rate hikes as the economy takes a hit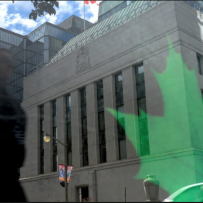 The Bank of Canada for some time has been suggesting higher and higher interest rates are coming soon — until this week.
Economists are noting the central bank took on a dovish (read: less aggressive) tone at its March 6th policy meeting when it announced the overnight rate was being held at 1.75 percent.
"The Bank of Canada has finally pulled its head out of the sand and acknowledged that the deteriorating economy no longer justifies higher interest rates in the near term," writes Stephen Brown, senior Canadian economist with Capital Economics, in a report.

The Canadian economy performed below expectations in the fourth quarter as the energy sector kept struggling.
As recently as at its January policy meeting, the central bank had been laying out plans for interest rates in the "neutral range" — considered to be between 2.5 and 3.5 percent — but now it is targeting rates "below" that range, albeit higher than at present.
"Although the Bank still expects its next move to be a rate rise, we think that it will end up cutting rates by the end of the year," Brown continues in the Capital Economics report.
The central bank uses its overnight, or policy, rate to keep inflation in check, scheduling eight meetings a year to announce any changes.
Lower rates encourage borrowing and spending, and this demand typically inflates prices.
In a depressed economic environment, lower rates can stoke the flames while higher rates can keep an economy's growth at a healthy level.
Faced with a more sluggish showing from the economy, the central bank may be more limited than previously thought in terms of its ability to continue to hike rates. Between summer 2017 and fall 2018, the bank increased the overnight rate five times.
In a separate response to today's announcement, Benjamin Reitzes, BMO's Canadian rates and macro strategist, also notes a softer approach from the Bank of Canada this time around.
"Following the lead of most of the world's central bankers, the Bank of Canada continued to take a more dovish tone. It's clear that while the hiking bias was left in, any potential move higher in rates is a long time away," he writes.
While the general consensus among Canadian economists is not in line with Capital Economics' prediction, it appears some observers are considering the possibility of a rate cut. "Indeed, any further deterioration in the backdrop will prompt discussion of rate cuts to heat up further," Reitzes adds.