Canada's Cannabis Advantage Going Up in Smoke as U.S. Moves In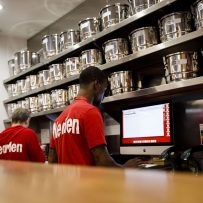 Canada's competitive advantage in cannabis is disappearing.
Half of the 10 biggest marijuana companies trading in Canada are now U.S. based, including MedMen Enterprises Inc. of Los Angeles, Curaleaf Holdings Inc. of Wakefield, Mass., and Green Thumb Industries Inc. of Chicago. Quincy, Florida-based Trulieve Cannabis Corp. and Boulder, Colorado-based Charlotte's Web Holdings Inc. are among the top 10.
Canadian companies still take the top three spots north of the border, though the biggest pot company by market value, Nanaimo, British Columbia-based Tilray Inc., is listed in the U.S. and has a market value of $10.4 billion.
Canada's Pot Stocks Crowded Out
Half of publicly traded cannabis firms in Canada are based in U.S.
Canadian companies took on a leadership position as Canada became the world's first major economy to legalize pot for both recreational and medical use. But the influx of U.S. cannabis companies, which have turned to Canada to gain stock listings because of a federal ban south of the border, is bringing that advantage to an end.
Combined, those top U.S. firms represent C$10.6 billion ($8 billion) of market value — or about 20 percent of the C$55 billion market capitalization of the 144 cannabis companies listed in Canada.