Canada vs. USA: Which Housing Market Has It Worse?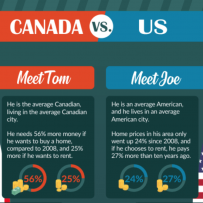 A decade has passed since the collapse of Lehman Brothers, the largest bankruptcy case in history, which fueled the global financial crisis of 2008-2009.
We investigated how the housing markets have changed these past 10 years in two of the world's most influential nations, Canada and the U.S. Our researchers examined the real estate metrics from 2008 and 2018 and put together a side-by-side comparison to determine which country has it worse.
.
Here are a few takeaways that you might want to explore:
The average Canadian must pay a staggering 56% more to own a home, and 25% more to rent compared to a decade ago, while the country's median income only went up by 15%;
For Americans, on the other hand, home prices increased by 24% and rents by 27%, with a slightly bigger 18% gain in income;
The CAD lost 25% of its power compared to the USD, going from almost perfect parity to a much lower exchange rate;
The Canadian housing market went from "seriously unaffordable" to "severely unaffordable," while the American real estate sector maintained its position in the "seriously unaffordable" category.
Story provided by Point2 Homes, an international real estate search portal, a division of Yardi Systems Inc.
To view the original report, go to: https://www.point2homes.com/news/canada-real-estate/canada-usa-housing-market-worse.html