Canada posts strongest jobs gain this year, led by part-time positions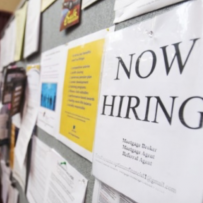 Canada's economy recorded its best monthly job numbers this year, but the gains were all part-time and wage growth slowed.
Employment increased by 63,300 in September, on a more than 80,000 gain in part-time work, Statistics Canada said Friday from Ottawa. Full-time employment was down by 16,900. Economists were anticipating a 25,000 increase on the month.
While this particular data series tends to be volatile, the overall picture of Canada's jobs market so far this year has been one of decent employment gains that are neither too hot nor too cold.
Canada has produced employment gains in three of the last four months and the economy added 65,800 jobs in the third quarter, all part-time. That's a switch from the first half of the year, when the economy failed to generate any jobs, but that masked stronger full-time employment and a drop in part-time work.
Overall, the economy has added a total 48,700 jobs through September, reflecting full-time gains of 80,400. At this time last year, the economy had added 253,600 jobs — a pace that was largely seen as unsustainable.
Canada's unemployment rate dropped to 5.9 per cent in September from 6 per cent a month earlier, near the lowest in four decades.
Other Highlights
-Wage gains slowed sharply in September to 2.4 per cent from 2.9 per cent in August. That's the slowest since September last year.
-Wages gains for permanent workers were also the lowest in a year at 2.2 per cent.
-Actual hours worked were up 0.7 per cent in September from a year ago, the smallest gain since February 2017, reflecting the increase in part-time work.
-By industry, the gains were broad-based. Construction was responsible for 28,000 new jobs in September, but all goods-producing industry.