Canada posts largest trade surplus with U.S. since May 2014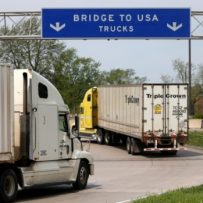 With U.S. trade tension already running high, the latest data from Statistics Canada might be putting an even bigger target on Ottawa's back.
Canadian exports to the United States reached a record $36.1 billion in April, according to data released by the national statistics agency on Friday. Top shipments included cars, natural gas and softwood lumber, which has emerged as a major sticking point in cross-border relations. 
Thanks to those export gains, Canada's trade surplus with the U.S. reached $4.95 billion – the largest since May 2014. 
Statistics Canada said on Friday that overall, April trade deficit narrowed to $370 million.
After struggling for years to adjust to sharply lower prices of crude oil, Canada's economy appears finally to be on a sustainable path to recovery.
In particular, the export sector, long a cause of concern for the Bank of Canada, is showing strength.
"The Bank of Canada has been looking for that for the length of 2016 but has been largely disappointed, but maybe it is starting to materialize as we move into 2017," said Paul Ferley, assistant chief economist at Royal Bank of Canada.
Exports, which jumped 3.2 per cent in March, increased by 1.8 per cent in April to $47.69 billion. Exports of motor vehicles and parts grew 4.4 percent while energy shipments posted a 2.5 per cent gain.
"It's a very strong trend… we see this continuing because there is strong U.S. growth," said Ross Prusakowski, a senior economist at Export Development Canada.
Imports also hit a record high, edging up 0.6 per cent to $48.06 billion – the fifth consecutive monthly increase – thanks in part to increased inflows of consumer goods, electronic and electrical equipment and parts.
In a note to clients, CIBC economist Nick Exarhos said "trade is likely to be a more significant source of growth in the second quarter than it has in recent quarters."
"Although the deficit came in a bit wider than the street was expecting in April, a gain in exports—particularly in volumes—was a solid sign that the economy carried momentum into the second quarter after a scorching start to the year."
Figures released this week show first-quarter annualized growth of 3.7 per cent, the best in the Group of Seven leading industrialized nations.
The Canadian dollar strengthened slightly to $1.3505 to the U.S. dollar, or 74.05 U.S. cents, up from $1.3526, or 73.93 U.S. cents.
Exports to the United States, which accounted for 75.7 per cent of all Canadian exports in April, soared 5.4 percent while imports grew 1.1 per cent.
As a result, Canada's trade surplus with the United States expanded to $4.95 billion – the largest since May 2014 – from $3.44 billion in March.
Separately, Statscan said the labor productivity of businesses grew 1.4 per cent in the first quarter, the most in almost three years.
"These are just merchandise figures, and do not include services. Canada would be stupid to forget about services when it negotiates over trade balances with the U.S," Gary Hufbauer, senior fellow at Peterson Institute and trade expert, told BNN in a phone interview. "The U.S. has a trade surplus with Canada because of services." 
— With files from BNN