Canada posts $416M trade deficit as both exports and imports decline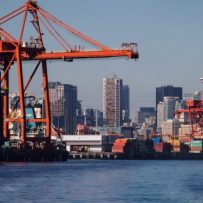 Canada's economy continued to show sluggish trade flows in September with both exports and imports recording back-to-back monthly drops. The statistics agency also revised away its previously reported surplus from August.
The nation posted a $416 million trade deficit in September, down from a revised $551 million deficit in August as exports slumped less than imports. Exports were down 0.2 per cent, after dropping 1.5 per cent in August, while imports were down 0.4 per cent. Economists predicted a September surplus of $200 million.
Statistics Canada made a large revision of its August import numbers to account for the late documentation of three icebreakers. The change meant the country ran a deficit that month instead of a previously reported $526 million surplus.
The trade picture in September is still consistent with what the economy has seen in recent months — an improving trade balance driven largely by fewer purchases of goods from abroad. Canada's trade deficit was $2.7 billion in May. In real terms, which strip out price changes, imports fell 1.5 per cent in September and exports were down 1.2 per cent.
For all of the third quarter, exports were up 2.6 per cent versus a 6 per cent gain in the second quarter. The increase was all price gains, with export volumes down 0.3 per cent in the three month period.