Canada Pension Sees Hyperinflation, Populism as Biggest Threats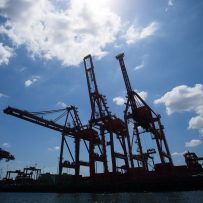 An outbreak of U.S. hyperinflation and a surge in populism that could crimp trade are the greatest risks to the global economy, according to the head of the Canada Pension Plan Investment Board.
Mark Machin, chief executive officer of the C$356.1 billion ($278.2 billion) pension fund, said he was at a dinner a few weeks ago and the discussion turned to whether the U.S. economy was facing something akin to what occurred in 1967.
"In 1967, there was a long period of very benign inflation coming out of the Second World War in the '50s and '60s," Machin said in an interview at the fund's office in Toronto. "People thought that inflation was just structurally low and no matter what you did it wouldn't spike."
That all changed in 1967 amid a backdrop of ongoing fiscal stimulus, the outbreak of the Vietnam War, and incredibly low unemployment, he said.
"Inflation started surging upwards," Machin said. "I think the old hands at the Fed are keenly aware of '67. That's one of the risks that's out there is that inflation spikes, the Fed has to respond and it damps the underlying economy."
He said was also concerned that a rise of populism around the world could lead to policies that are not friendly to international trade and investment. "That's something that would be a worry over time," he said. "We're a beneficiary and the pensions in Canada are a beneficiary of international investment."
He sees North American economies currently performing well, with household demand and employment remaining strong, which will allow for a gradual monetary policy tightening in the U.S. and Canada. He predicts three interest rate increases in the U.S. this year, and two in Canada.
"It means bond holdings and interest-rate sensitive things are going to be dampened," Machin said. "People shouldn't expect double-digit returns on our pool of assets or any pool of assets over the next five plus years."
Machin said the bull market in equities helped drive returns in the previous fiscal year for CPPIB. Canada's largest pension fund reported on Thursday a net annual return of 11.6 percent for the year ended March 31, down from 12.2 percent return the previous year. The funds asset's under management rose 12.4 percent.
Machin said there continues to be a great deal of capital chasing assets around the globe, which is driving up prices and making it more difficult to find acquisitions.
That has CPPIB increasingly looking at emerging markets for growth, including in China, India, Brazil, Peru, Colombia, and elsewhere. By 2025, he said CPPIB aims to have a third of the fund invested in emerging markets up from 15.8 percent today.
— With assistance by Maciej Onoszko