CANADA LOST 200,000 JOBS IN JANUARY AS OMICRON HIT HARD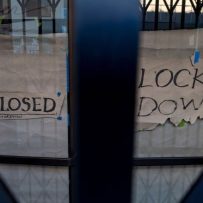 Canada's economy lost 200,000 jobs last month, according to Statistics Canada, as COVID-19 shutdowns related to the Omicron variant saw many businesses close up shop.
The data agency reported Friday that the decline pushed the unemployment rate up half a per cent, to 6.5 per cent. That's the first increase to Canada's jobless rate since April 2021.
Most of the job losses were concentrated in Ontario and Quebec, two provinces that saw some of the hardest and earliest surges of the Omicron-driven wave, and which both moved to lock down in reaction. Economists had been expecting a bleak figure, but the 200,000 lost jobs was roughly twice what they were anticipating.
As was the case during previous waves, accommodation and food services bore the brunt of the job losses, with 113,000 jobs lost during the month. Another public-facing industry, retail, was also hit hard, losing 26,000 workers.
'No choice' but to close
Drew Bathory, co-founder of the ELMNT Studio fitness centre in Montreal is one of thousands of employers who has tried diligently to keep the doors open throughout the pandemic.
The business opened only weeks before COVID-19 first hit in March of 2020, and while they gamely made a go of it through multiple waves, they recently pulled the plug for good.
"We planned to close down for holidays [and] planned to reopen but just never did," he told CBC News in an interview.
The centre employed more than 40 people at one point, and shrank to about 20 staff due to various capacity restrictions, but Omicron has proved to be too much.
"We really have no choice," he said. "We have tried."
Many other businesses that serve the public were also hit hard by layoffs in recent weeks, but some of them tell CBC News they hope those layoffs will be temporary.
Trevor Brodie, operations manager at the Amsterdam BrewHouse in Toronto says they had to reduce staff before Christmas, when provincial lockdowns were implemented. But with the province giving the all clear to reopen this month, they are doing so.
"We're fairly optimistic due to the fact there was a very short shutdown [but] it definitely impacted our staff," he told CBC News in an interview.
Brodie is hoping that the lockdowns have ended to the brewery can do business as usual. He expects the brewery will soon be hiring up 100 people for what he hopes is a busy summer.
"We just want to welcome them back with open arms," he said.
Server Nicole Jamieson said the recent lockdown was a "hard hit" for herself and the industry she loves, but she's feeling optimistic about the future again. Her first customers once the pub reopened this month were regulars, and she was so pleased to see them again after a rough few weeks.
"I almost feel like I'm going to cry right now," she said in an interview. "My heart just swelled — it was just so nice to see people out."
Swift rebound likely
Economist Royce Mendes with Desjardins says there is reason for that optimism. Goods-producing industries actually added 23,000 jobs during the month, he noted, a sign that parts of the economy may have turned the corner.
"Virus-related hospitalizations appear to have peaked at the national level, which has allowed provincial governments to ease restrictions and made Canadians feel a bit safer about venturing out of their homes again," he said.
"That's the beginnings of a recipe for another swift post-COVID-wave rebound."