CANADA DIDN'T HAVE A REAL ESTATE SUPPLY SHORTAGE, BUT ITS GOVERNMENT MAY CREATE ONE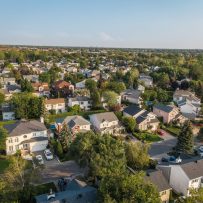 Canada's pull back in new housing starts has presented supply concerns, but they shouldn't… yet. A new analysis from BMO Capital Markets reiterates they don't see a lack of supply, but too much demand. Looking at the number of new housing starts to working age population growth, they show little deviation from historical norms. However, the country's pursuit of rapid population expansion on top of its exuberance will likely manufacture a shortage if it persists.
Housing Starts To Working Age Population Growth 
BMO looked at a relatively new indicator—housing starts to working age population growth. By comparing the growth of housing to the growth of workers, you get a better idea of demand pacing. A new home can create supply either for the user, or by providing a notch up the ladder, freeing up starter units.
Canada's Housing Supply Hasn't Deviated From Historic Norms
Canada's housing starts aren't significantly out of line with historical standards. Over the past 45 years, the bank found the ratio was 0.6, or 1 new home per 1.7 adults. For context, that's about 32% more housing than the average household size requires.
Charting the data shows some tightening recently. The ratio dips below 0.5 points during some periods. New home starts have fallen, but they do remain elevated in contrast to historical norms.
Source: BMO Capital Markets.
"… sifting through the deep ebbs and flows of the past few years, the underlying trend in starts/population growth really is not out of kilter with long-run averages," says Douglas Porter, a prominent economist at BMO.
The bank even notes the ratio has climbed above the long-run norm recently. Starts take years to materialize into housing, but there's nothing out of the ordinary.
Canada Is Manufacturing Demand To Distort Home Prices
The bank argues supply isn't out of whack, but demand certainly has been. Cheap credit has fueled investor speculation, outbidding end users. Rapidly rising home prices also leads to less inventory, since it provides incentive to hold surpluses. Then there's the upcoming demand stimulus—aggressive pursuit of population growth during a housing crisis.
Canada's largest price growth was during the pandemic's population stagnation. It was exuberant expectations of stimulated demand that drove the growth. "To be clear, starts are historically strong, it's the population spurt that's changed the picture," says Porter.
Adding, "if we didn't have a supply shortage before, we are going to have one when the population grows by 1 million in a single year."
Canada's ability to continue perpetual growth at this clip is unrealistic. Poaching 1 million people per year might be doable in the short-term, but not persistently. It also takes a great suspension of reality to be convinced that investors are in the business of devaluing their holdings if they are just allowed to make more.
However, speculative narratives don't have to make sense or persist. They only need to demonstrate some short-term reinforcement, providing enough doubt that it's possible.
"…we would simply re-assert that the wildness seen in the housing market during the pandemic was fundamentally a demand surge, and not some new supply issue," he ends.
Story by: Better Dwelling