Canada cuts U.S., China out of talks on reforming global trade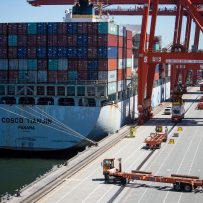 Canada's new Minister of International Trade Jim Carr has invited a dozen trade ministers to meet in October to discuss how to fix the World Trade Organization.
But two countries have been left off the list: the U.S. and China.
The goal is to "identify concrete and tangible ways the operation and function of the WTO can be advanced and improved over the short, medium, and long term," Canada's WTO Ambassador Stephen de Boer said in a phone interview. "The idea is that it is a discussion starter, or a catalyst and they intend to broaden the conversation."
Ottawa has invited the top trade officials from Australia, Brazil, Chile, the European Union, Japan, Kenya, Mexico, New Zealand, Norway, Singapore, South Korea, and Switzerland, he said. U.S. Trade Representative Robert Lighthizer is aware of the meeting but was not invited, said de Boer. He added that the U.S. has launched several criticisms of the WTO but has yet to offer any proposals to fix it.
President Donald Trump has said the WTO can't handle the problems created by China's rapid economic ascent and is challenging the rules that govern international trade, hitting its partners with billions of dollars of tariffs and blocking nominees to the WTO's dispute-resolution panel. 
Those tactics have plunged the WTO into multiple crises that threaten its ability to mediate between members and negotiate new accords.
Many WTO members have echoed Trump's concerns about China's trading practices, including intellectual property theft, forced technology transfer, industrial subsidies, distortions created by state-owned enterprises, and overcapacity. They disagree, however, with the U.S. response and are instead seeking ways to reform the WTO from within the organization.
The European Commission circulated a draft proposal earlier this month aimed at addressing such concerns by modernizing the WTO to prevent a system-wide collapse. The proposal seeks to end the U.S. block on WTO appellate body appointments, develop new rules to combat unfair trade behavior, and reshape the WTO's monitoring, surveillance, and deliberative functions.