Canada and Mexico Downplay Urgency to Reach Nafta Deal Next Week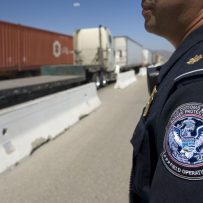 Lead Nafta negotiators from Canada and Mexico signaled they were in no rush to strike a deal on the trade pact by mid-May, saying instead that talks are progressing well with a series of challenges remaining after a week of high-level discussions in Washington.
Canada's Foreign Affairs Minister Chrystia Freeland and Mexico's Economy Minister Ildefonso Guajardo spoke to reporters Friday after holding trilateral talks with U.S. Trade Representative Robert Lighthizer. They said staff-level negotiations will continue Monday, as ministers stay in touch by phone and brief their countries' industry and government officials on progress. The three will schedule a meeting for a later date, Guajardo said.
The countries have been holding periodic discussions since August after President Donald Trump threatened to withdraw from the 24-year-old pact if he can't renegotiate one that would shrink America's trade deficit and boost manufacturing jobs. But U.S. House Speaker Paul Ryan injected a sense of urgency in negotiations this week when he said legislators need notice of a Nafta deal by May 17 so they can vote before this Congress ends in 2018.
'Seriously Flawed'
Lighthizer, who didn't speak to reporters about Nafta on Friday, said last week he wanted to reach a deal in May, considering the political calculus for passing a new Nafta would change if it had to be voted on by the next Congress. He said in an emailed statement on Friday the U.S. is ready to keep working with partners to achieve "breakthroughs" on Nafta, which he called "a seriously flawed trade deal."
Asked about next week's deadline, Guajardo said "the agreement will be ready when it's ready." When pressed whether a deal is possible by May 17, he said, "We are working on that effort, but again I have to make very clear the quality of the agreement and the balance of the agreement has to be maintained."
For her part, Freeland didn't express a sense of urgency, saying the three countries are progressing well but have a "very long to-do list, which is constantly being updated."
'We'll See'
Automobiles again were on the top of that list, as the three negotiators discussed different proposals to regulate how much regional content a car must have to qualify for Nafta's tariff-free benefits. Mexico opened the door to compromise on the issue this week, though it's unclear if the flexibility will be enough to reach a deal with the U.S. and Canada, according to people familiar with the talks.
Trump called Nafta a "horrible" deal during a meeting with the chief executive officers of the world's biggest automakers at the White House on Friday. He also told the top executives of General Motors Co., Honda Motor Co. and Ford Motor Co. that he wants them to build "millions more cars" in the U.S.
Automakers have expressed concerns that the U.S. plan to modify Nafta could jeopardize their production and supply chains, which criss-cross the three nations.
"I've never been a Nafta fan," said Trump, adding he'll see how the negotiations proceed. "We'll see what happens."
— With assistance by Andrew Mayeda, Eric Martin, Josh Wingrove, Ryan Beene, John Lippert, and Jennifer Epstein