Canada 'a laughing stock': Experts react to Trans Mountain indemnity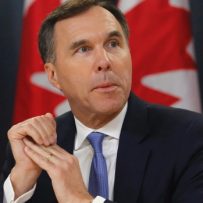 The battle over Kinder Morgan's $7.4-billion Trans Mountain pipeline expansion took a sharp turn this week, after Finance Minister Bill Morneau offered to indemnify the project for politically-motivated delays and backstop any company that takes it on. 
The move came as Kinder Morgan's May 31 deadline for assurances looms, after the Houston-based company last month halted all non-essential spending on the Alberta to B.C. project amid mounting opposition from the B.C. government, local protestors and environmentalists.
While Kinder Morgan Canada CEO Steven Kean said at the company's annual meeting on Wednesday that the pledge isn't enough to restart the Trans Mountain project, other experts and business leaders weighed in on what Morneau's move really means for the project and business in Canada.
Here's a look at what guests on BNN Bloomberg had to say: 

It's a sign of Canadian political instability:
"Basically what's coming out here, and [Morneau is] coming so close to saying it, is that they're indemnifying for political instability. I'm not sure how many of us as Canadians really see us as living in an unstable political environment … This is about reputational risk. This is going to make other companies, other projects all pause and say, 'What if?'"
"Before, that 'What if?' was dismissed because it's Canada, it's stable. Not so much anymore. I think we need strong political leadership here and, personally, I don't think we're getting it."
Gordon Reid, president and CEO of Goodreid Investment Counsel
Kinder wants 'protection from everything': 
"The whole idea is to protect Kinder Morgan from damage and escalation of costs if the project should be held up once they start to build it again. [Morneau] said he would protect them from risks and costs escalations associated with the B.C. government's actions … But he didn't say he would also protect them from court cases filed by the First Nations, local protestors and municipal behaviours that could also really disrupt the pipeline. If I'm Kinder Morgan, I want protection from everything that could cause escalations in this project."
Gwyn Morgan, former Encana CEO
Canada is 'becoming a laughing stock':
"We can't live with this kind of uncertainty in Canada. We can't build a major infrastructure project in Canada for what should be our prime asset. We are an energy producing country – we should recognize that fact and pull together as a nation and get it happening … It makes no sense whatsoever if the federal government cannot impose its will and legislate in every way to have an interprovincial pipeline built in the country. We simply have to get our act together on these matters because we're becoming a laughing stock in the world."
Derek Burney, senior strategic advisor for Norton Rose Fulbright and former ambassador to the U.S.
The indemnity is an 'extremity':
"Of course it's a sad commentary about how our regulatory, judicial and political systems work – that such an indemnity has become necessary. Part of it has to do with the position that the B.C. government has taken, that they're unwilling to defer to a federal determination of approval in the context of the federal government having jurisdiction. So it is very unfortunate that this extremity had to be considered but it's indicative of the value this project represents to the country that the government – a Trudeau government that is a fundamentally centrist government – has been able to get their head around the provision of an indemnity."
Dennis McConaghy, former TransCanada executive vice president of pipeline strategy
Investors may need to brace for the worst:
"From an investment standpoint, looking at the pipelines in general, this has been one of the biggest disappointments for quite a while now. So, you can take the positive angle and say this looks really good, now we're probably going to get the pipeline going through and we have a little bit more security around it, a little bit more certainty, which is always what investors want at the end of the day.
"But, on the other hand this introduces a lot more conflict perhaps in the negotiations, what we're about to see in the West Coast in terms of further opposition to the project. From an investment point of view that's not good. At the end of the day, this may not achieve what the government wants or maybe what investors want."
Andrew Pyle, senior wealth advisor and portfolio manager at The Pyle Group, Scotia Wealth Management