Calgary's housing market in store for a "bumpy recovery" in 2018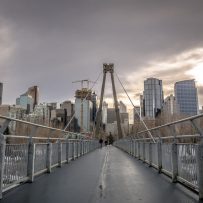 Although Calgary has emerged from its two-year economic slump, it might not be smooth sailing for the city's housing market this year.
In fact, the path to recovery is expected to be bumpy, according to the Calgary Real Estate Board's (CREB) 2018 forecast, published today.
With the market facing stricter mortgage regulations and higher interest rates, CREB predicts that these headwinds will likely offset the impact of the economy's modest improvements this year, thereby prolonging the city's economic recovery.
"Housing market conditions are expected to remain relatively unchanged in 2018," says CREB Chief Economist Ann-Marie Lurie, in a press release.
"The market will continue adjusting to the 'new normal' in this economy. However, there was modest job growth and net migration last year, with expectations of further improvements into 2018," she adds.
A total of 18,853 homes are expected to change hands this year, compared to 18,882 homes in 2017. Meanwhile, citywide price growth is slated to drop 0.13 per cent, a marginal improvement over 2017's 0.17 per cent decline.
Overall, Calgary's housing market is predicted to experience similar conditions compared to 2017. However, trends in each sector of the market will vary.
In 2018, CREB forecasts that more balanced market conditions will be led by the attached and detached sectors of the market, while the apartment sector will face excess inventory.
In the detached sector, the new mortgage regulations and higher interest rates are likely to have more of an impact compared to other property types, says CREB.
Sales activity is expected to slow but should be mitigated by availability of supply in the lower price ranges. As a result, no significant changes are expected in detached benchmark prices compared to 2017.  
The attached sector may benefit from reduced sales in the detached sector this year, says CREB. In 2018, attached sales are expected to improve, causing reduced inventory and a modest price gain of 0.38 per cent.
Supply in both the resale and new-home apartment markets is slated to remain elevated in 2018. According to CREB, it will take time for inventory levels to decline and prices will continue to experience downward pressure, with stabilization not expected until the latter half of the year. This year, the benchmark price of an apartment is slated to dip one per cent year-over-year to $260,832.