CALGARY REAL ESTATE MOGUL NAVJEET (BOB) SINGH DHILLON AMONG FOUR SOUTH ASIANS APPOINTED TO THE ORDER OF CANADA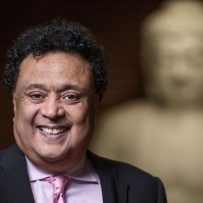 Navjeet (Bob) Singh Dhillon, Calgary real estate mogul who is President/Founder and CEO of Mainstreet Equity Corp, has been appointed an Officer to the Order of Canada "for his achievements in business, and for his unwavering commitment to philanthropy and higher education."
Dhillon made Mainstreet the first Sikh-owned company listed on the Toronto Stock Exchange. His company acquires underperforming assets (low rent rental-apartments), clusters them into apartment complexes, and upgrades them to mid-market rental units.
University of Lethbridge's Dhillon School of Business is named after him. He made a $10-million donation to the school.
Dhillon, who came to Calgary as a teenager in the early 1980s, was interviewed by IANS on a visit to Punjab some years ago.
IANS reported that Dhillon belongs to Tallewal village near Barnala in Punjab.
Born in Japan in 1965, where his grandfather had moved from Punjab to get into shipping business, Dhillon's family lived in Hong Kong, Japan and Liberia. Having lost everything in Liberia's civil war, the family moved to Canada in the 1970s to begin from scratch.
"For me, it has been an unbelievable journey. I never had an easy break, to be honest. Our Punjabi DNA is to own real estate. At least I am in the game. I am 100 percent self made.
"I have believed in diversification. I own an island in Belize, have a credit card processing company, merchant process companies and other businesses. These are pretty diverse things I do. But I have very strong roots with Punjab and India," said Dhillon, who holds a MBA degree from Richard Ivey School of Business.
Dhillon started his real estate journey at age 19 by buying two old houses. He renovated and sold them.
"I made 17,000 dollars from these. First thing I did was to go and buy a Mercedes. The only game in Calgary was real estate and manufacturing. Grew up seeing icons like Warren Buffet, Bill Gates, Donald Trump and Steve Jobs.
"I got into real estate and became a millionaire very early. I never had a job in my whole life. All I did was buy, develop, re-develop every type of real estate till I took my portfolio public," said Dhillon, who studied in Shimla's Bishop Cotton School from kindergarten till he was a teenager.
OTHER South Asians who were appointed Officers to the Order of Canada:
* Neil Devindra Bissoondath of Québec City, Quebec, "for his contributions to Canadian literature through his groundbreaking examinations of multiculturalism and diversity."
* Vaikuntam Iyer Lakshmanan of Mississauga, Ontario, "for his philanthropy and for his expertise in hydrometallurgy and business, which have greatly benefited his profession, community and Canada-India relations."
* Pradeep Merchant of Greely, Ontario, was appointed a Member of the Order of Canada "for his longstanding contributions to his community, including his philanthropy and his leadership in the promotion of bilateral ties between Canada and India.
MARY Simon, Governor General of Canada, announced 135 appointments to the Order of Canada. The new appointees include 2 Companions (C.C.), 39 Officers (O.C.), 1 honorary Member and 93 Members (C.M.).
They will be presented with their insignia at investiture ceremonies to be held on future dates.
The Order of Canada is one of the country's highest honours. Created in 1967, it honours people whose service shapes our society, whose innovations ignite our imaginations and whose compassion unites our communities.
More than 7 500 people from all sectors of society have been invested into the Order of Canada.
Simon said: "Canada is defined by the people that make up this great country. These most recent nominees to the Order of Canada are shining examples of the commitment and outstanding contributions Canadians have made to the well-being of communities throughout this land, whether it be social, environmental, scientific, economic, cultural or related to mental and physical health. To all of the nominees, congratulations and thank you."
Story by: Indo-Canadian Voice