Calgary multi-family real estate market sales down – Owners holding onto their properties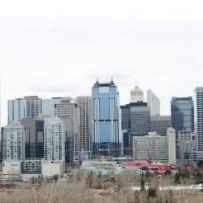 CALGARY – A low rental vacancy rate combined with high rents is proving to be a good environment these days in Calgary for investors in the multi-family commercial real estate market.
That buoyant environment has kept activity, in terms of sales, down compared with a year ago.
"We're not seeing a lot of transaction volume and velocity," said Eric Horvath, vice-president/partner in investment sales with Colliers International in Calgary. "Volume in terms of dollars and cents and velocity in terms of transactions. Simply because vendors are not highly motivated to dispose of their assets because they are performing extremely well."
According to Colliers Mid-Year 2014 Multi-Family Report, Calgary had 14 sales in the second quarter of this year, down by 26.32 per cent compared with a year ago and the total value of transactions dipped by 74.21 per cent to $43.4 million.
The average sale price per door in the second quarter was $171,712, up 14.67 per cent from last year.
The report said the city had the lowest vacancy rate in the country at 1.4 per cent which increased from 1.2 per cent last year.
"Calgary has proven itself to have a robust real estate market in recent years, illustrated by having the highest one bedroom unit rents in the country," said the report.
The one bedroom units averaged $1,087.
The overall average rent for all units was $1,127, an increase of 11.58 per cent from last year.
Colliers said the multi-family market is one of the most sought-after asset classes in Canada. Vacancy and capitalization rates – the ratio between net operating income produced by an asset and its value – remain at historical lows while average price per door and average rental rates continue to trend upward.
It said the national price per door is up just under 18 per cent while national rent has increased by just under four per cent.
"Despite these numbers, we have yet to see most developers revert to building purpose-built apartment rental projects," said the Colliers report. "The number of new purpose-built rental apartments continue to be only a fraction of the number of new condominium structures being constructed and proposed across Canada.
"Numerous national investors are looking to purchase large-scale multi-family assets, though very few are looking to dispose of these assets."
Story by: MARIO TONEGUZZI, CALGARY HERALD  |  mtoneguzzi@calgaryherald.com  |  Twitter.com/MTone123