Calgary Loses Jobs Bragging Rights to Toronto and Vancouver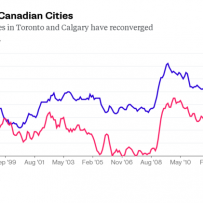 Story by: Theophilos Argitis  and Erik Hertzberg
Calgary, the capital of Canada's oil industry, has lost its bragging rights as the country's strongest labor market.
The city, which has had the lowest unemployment among Canada's four largest cities for almost a decade, has seen its jobless rate jump by almost two percentage points to 6.6 percent this year as it suffers the brunt of an oil price plunge. That's left Vancouver — with a jobless rate of 6 percent — Canada's tightest market.
How bad are things for Calgary? Toronto, which has seen its unemployment rate plunge in recent months from more than 8 percent last year, has converged with Calgary's for the first time in 15 years.
The equivalent jobless rates between Calgary and Toronto is "one symbol of how the Canadian economic landscape has been dramatically transformed by the oil shock," said Doug Porter, chief economist at Bank of Montreal, who identified the trend in a note Friday. "Toronto's rate was 3.4 percentage points higher than Calgary's just eight short months ago."