Calgary housing vacancy rate spikes to height not seen in 12 years amid economic turmoil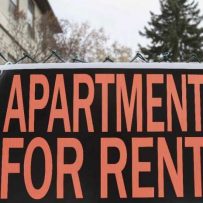 Story by: Reid Southwick, Postmedia News
Low energy prices and high unemployment have forced people out of their homes in droves, spiking housing vacancies to levels not seen in well over a decade, census figures show.
Calgary's 2016 civic census revealed that while the city's population increased slightly to more than 1.2 million in April, more people moved out of the city than arrived here.
Analysts said the economic turmoil driving out-migration has also led to a dramatic increase in housing vacancies. More than 20,800 units were empty in April, a 67 per cent spike over last year's levels, which brought the vacancy rate for dwellings to 4.3 per cent, according to the census.
The vacancy rate hasn't been this high since 2004, when the rate was 4.33 per cent and Calgary had reported the lowest level of migration in 12 years. A city hall analysis of historical housing data shows there are more vacant units in 2016 than in any of the past 16 years.
The Calgary Real Estate Board said the census figures align with trends that officials have been seeing in the local housing market.
"We're seeing more inventory," said Ann-Marie Lurie, the real estate board's chief economist. "The overall weakness is partly because we don't have those migrants coming in, so housing demand is fairly weak, too, and we're seeing that reflected in our sales."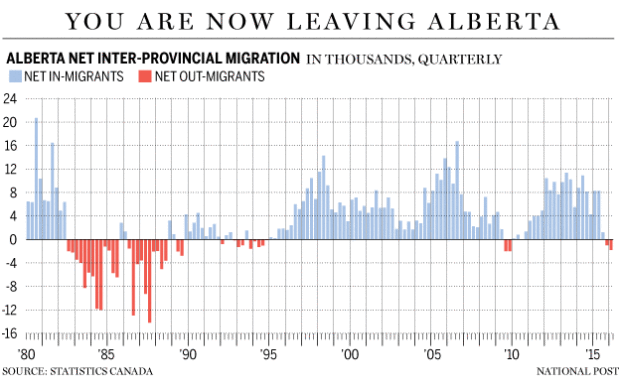 There were 6,000 listings for sale in Calgary last month, the biggest inventory since 2011, though still below a peak reached in the 2008 recession, when there were more than 8,000 listings.
Prices have also been on the decline — a detached home cost 3.4 per cent less in June than it did a year earlier.
"The trends are pointing to toward easing pricing," Lurie said. "There continues to be weak demand. Supply levels are maybe not increasing at the same rate but they're still rising."
Low energy prices have led to mass layoffs in the oilpatch and in downtown Calgary, where entire floors of office towers are increasingly vacant. In a period of high unemployment, residential vacancies are also on the rise in the commercial district.
Nearly 1,800 housing units in the Beltline — 10 per cent of the total — were vacant in April, more than double last year's volumes, the census figures show. Another 1,750 units were under construction in the downtown neighbourhood, home to many rental properties.
Across Calgary, there were nearly 9,000 vacant apartments, with a vacancy rate of more than eight per cent.
The results are roughly in line with forecasts by the Canadian Mortgage and Housing Corp., which predicted about seven per cent of rental apartments would be vacant by the fall.
"We're seeing less demand and more supply," said Richard Cho, market analyst with CMHC.
In an April report, the agency found moderate evidence of over-building and over-pricing in Calgary's housing market. An updated report is expected next week.
A glut in supply of apartment units has sent rental prices tumbling, with landlords offering free rent and other perks to lure tenants.
Owners of higher-end rentals, ranging from $2,000 per month and over, have dropped their rents by as much as 30 per cent, said Gerry Baxter, executive director of the Calgary Residential Rental Association.
"For a tenant, it's a great time to shop around, find a unit of your choice," Baxter said.
"For the people who own the property, it's certainly a challenging time because costs continue to increase, but in many cases most landlords are not going to pass it on, or not all of the increases, because the markets won't allow it."