Calgary has a problem, and it's building too much housing: report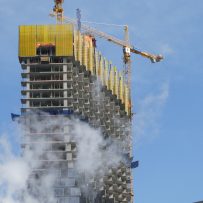 Canada's national housing agency has released its latest quarterly evaluation of Calgary's market, and it has again flagged a major vulnerability: overbuilding.
According to the Canada Mortgage and Housing Corporation (CMHC), there was strong evidence in Calgary of overbuilding during the second quarter of the year, and the issue was not limited to condos.
"A substantial number of purpose-built apartment and condominium units are under construction, posing a risk of rising inventory, especially given the current buyers' market conditions and the recent decline in the population aged 25 to 34, who tend to be first-time buyers," writes CMHC in a Housing Market Assessment.
In Calgary there was low evidence of overheating, price acceleration, or overvaluation (the three other categories CMHC analyses to come to an overall assessment). That led the agency to rate the market as being moderately vulnerable.
The report's findings mirror CMHC's previous evaluation published in July.
At the end of the second quarter, there were 22 cranes set up in Calgary for various projects, including condos, according to RLB, a firm that tracks such developments. That is more than New York had to its name at the time.
"We think the crane count is a good reflection of things that are actually underway, so it shows that [there's] confidence in the market and that these projects have buyers," Joe Pendlebury, the firm's senior vice president, told Livabl this summer.
The cranes were not only there for residential construction at the time, as RLB explained there were large industrial warehouses and civic projects underway as well.
In September, the rate of construction for single-family detached homes dropped 40 percent annually as contractors broke ground for 280 of these houses, according to a separate report from CMHC.
However, construction of all other types of housing combined was up 23 percent year-over-year, with work on 554 units beginning last month.