CALGARY AFFORDABLE HOUSING ADVOCATES CALL FOR GOVERNMENT SUPPORT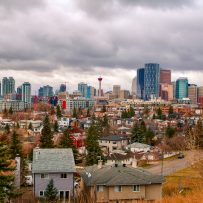 Prime Minister Justin Trudeau is walking back his comments that "housing isn't a primary federal responsibility" ahead of a cabinet retreat this week in Charlottetown, P.E.I., where Canada's housing affordability will take centre stage.
"The point I made was that the previous government had completely walked away from housing and we, since 2015, have been making significant investments in infrastructure, including the National Housing Strategy in 2017," Trudeau said Monday
"In terms of investing, we need to make sure we're creating the opportunities for families to get homes, to contribute to build the future in the communities they want."
Trudeau adds that all levels of government have different responsibilities and are working closely to provide housing relief. He also touted additional federal funding programs like the Housing Accelerator Fund. Applications for that $4 billion program closed on Aug. 18.
Meanwhile, the City of Calgary estimates that more than 80,000 households currently cannot afford housing.
The HomeSpace Society, a local non-profit that manages affordable housing for Calgarians, says a collaborative effort is needed.
CEO Bernadette Majdell notes that rental prices have increased more than 20 per cent over the last couple of years, making it difficult with the combined influx of new immigration into Canada.
"So we're feeling the pressure all around and from a HomeSpace perspective, the most vulnerable are becoming increasingly vulnerable because they can't afford any level of housing," she said.
"When it comes to housing, we believe it takes all levels of government, it takes private sector, non-profit and all levels of government to really make a difference and have an impact to the degree that we need it."
Majdell says that one of the biggest issues right now lies in supply
"The biggest focus is to try to increase supply. With the housing crisis, those who are most vulnerable often get left behind. So for us, it's really about trying to get creative and increase the supply of affordable housing in whatever way we can."
Other groups like Association of Community Organizations for Reform Now(ACORN) are also expressing deep frustration over the rising cost of living, pointing to some tenants' rent rates in Calgary increasing by $400 per month.
Alberta ACORN member Nestille Sobieraj says rent control is needed to keep some Calgarians alive.
"We want rent control – capping the rent at two per cent. We would also like a rental registry so that everyone knows exactly how much the previous tenant was paying before they left, to see how much it's increased before the new tenant has come in."
CABINET RETREAT TO GUIDE FEDERAL DECISION MAKING ON AFFORDABILITY 
No big policy announcements are expected following the retreat, but ministers will be briefed by national experts on housing and youth with a view to guiding federal decision making this fall.
Those decisions could include negotiating a national housing accord. Such a pact would bring all levels of government to the table, along with both not-for-profit and for-profit housing agencies, to build the estimated 5.8 million new homes Canada needs to restore affordability to the housing market by 2030.
The retreat comes as the Liberals' poll numbers continue to sink.
A cranky electorate left exhausted by the COVID-19 pandemic and its high-inflation aftermath is finding more appeal in the message from Conservative Leader Pierre Poilievre that under the Liberals.
'WORK TOGETHER' PLEADS NORFOLK HOUSING ASSOCIATION
Norfolk Housing Association, a local non-profit, is urging all three levels of government to "work together."
The association was founded in 1980 by residents in the community of Hillhurst-Sunnyside.
In a statement, CEO Maya Kambeitz says the prime minister and his government cannot take a back seat to the housing crisis.
"There must be a commitment and swift action to, not only ensure we can build adequate supply,
but preserve existing naturally occurring affordable housing." Kambeitz said. "This can be done by supporting non profits to acquire purpose built rentals by creating acquisition financing tools and funding.
"Cities like Calgary have already begun the work of understanding what levers are critical in stemming wild levels of unaffordability. We have a set of recommendations before council next month.
"The PM should be open to the expertise of those who live, work and are currently struggling in our city when thinking about what actions are necessary. This means enabling cities to apply solutions that will work within their unique context but ensuring there is alignment of vision for our housing system and ensuring all policy development utilizes a systems approach and lens."
HOUSING EXPERT: A CRISIS DEMANDS AN 'IMMEDIATE RESPONSE'
Steve Pomeroy is the executive advisor at the Canadian Housing Evidence Collaborative at McMaster University.
He says Canada's housing crisis demands an "immediate response," noting that expanding the Canada Housing Benefit would actually help those living on low incomes right away.
"A response that doesn't actually produce any housing for four years is not an immediate response. There are a lot of folks that are hurting because the rents are going up at 15 to 20 per cent a month.
"The one-time top of the Canada Housing benefit – which saw 800,000 Canadian renter households apply for that benefit and get one month $500 benefit – was a start, but what are they going to do next month?"
Pomeroy says easing the pressure for renters and mortgage holders renewing at higher rates could make voters more sympathetic towards Trudeau.
"Trudeau obviously heard a lot of the criticisms in that initial comment that he made regarding federal responsibility of housing, and I think what he was really reflecting there was a sort of a very narrow, purist constitution and interpretation," said Pomeroy.
"According to the Constitution, housing isn't the federal government's responsibility, but having said that, we have a very long history over the post-war period of a very proactive federal government that enacted many programs and funding mechanisms."
Pomeroy says the Canada National Housing Strategy was a good first step, but more work is needed as demand in the rental market increases along with immigration.
He suggests a more compressive strategy that looks at the housing system as a whole.
"We need federal decisions, things like directions from the Department of Finance around stress tests, and macro-prudential policy that constrain access to ownership for young families that has a knock-on effect if they can't access ownership in the rental market," Pomeroy said.
"If we've got excess demand and not sufficient existing rental stock, then the consequences are going to be reduced vacancy rates and pressure on rents, which of course then hurt the folks at the bottom of the market which the strategy is trying to address."
Story by: CTV News