BYLAW CHANGES TO ADD FLEXIBILITY FOR RENTALS IN BURNABY 'URBAN VILLAGES'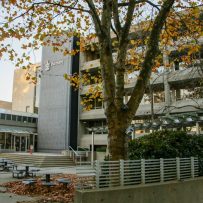 Property owners in Burnaby's "urban villages" may soon be able to build rental housing above shops without needing to go through the lengthy rezoning process.
City council gave staff approval recently to move forward on a zoning bylaw amendment to conform with the rental use zoning policy, which was given final approval earlier this year, along with a few amendments.
The policy requires developers in multi-family districts to include a significant number of below-market rental units – defined as 20% below the median rents in the area as recorded by the Canada Mortgage and Housing Corporation. For every five market rental or strata units, the development must include one below-market rental.
The policy also allows the creation of RMr zoning, which would allow more density on a property in exchange for more units rented at the CMHC median rates in the neighbourhood.
When council first adopted the policy in December 2019 – prior to the finalized policy in March this year – Burnaby became the first city in B.C. to incorporate rental uses into its zoning policy.
While developing the new bylaw amendment, staff also came up with a few changes.
Among those changes, staff suggested removing the rezoning requirements for rentals in "urban villages" districts.
Currently, the urban villages districts allow for multiple family dwellings above stores, but for voluntary rentals, property owners must acquire a zoning amendment. That, staff said, discourages owners from providing rentals in those districts.
The amendments would also allow the developer to exchange more density for more non-market rentals similar to the requirements in multi-family zoning – at least one unit rented out at 20% below CMHC median rents for every five market rental or strata units.
Currently, council-set policies allow up to five storeys in the Heights area, but planning and development director Ed Kozak said that could reach up to six storeys, to be determined on a case-by-case basis.
The amendments would also eliminate entirely previous rules that mandated developments building up above the ground floor along Hastings Street to slope, on the street-facing side, at a 45 degree gradient away from the street. That rule had been in place to allow more sunlight onto Hastings Street, according to a staff report.
Staff also suggested expanding permitted uses in RMr districts to allow for more uses, including child care and supportive housing, which are already permitted in multi-family districts.
During a recent meeting, Coun. Colleen Jordan suggested the city engage a third party to model the effects of the city's incentives to develop non-market housing, something Kozak said has previously been done in house.
Story by: Burnaby Now