BUSTING THE MYTH OF CANADA'S MILLION OR MORE VACANT HOMES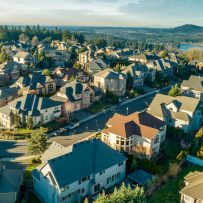 Recent media accounts and development agency reports suggest Canada's housing affordability problem is being made worse by more than a million homes sitting empty, but a deep dive into the vacancy data reveals the alarmists have misinterpreted the information.
Many believe investors and those owning multiple homes contribute to worsening housing affordability by keeping dwellings empty that could house tenants or new millennial owners. Hence, critics say, housing conditions would improve if these million-plus "vacant homes" were made available for buying or renting.

Vancouver imposed a vacant home tax in 2017 and Toronto is doing the same this year. But the vacant tax in Vancouver has not netted tens of thousands of empty properties. A similar outcome is expected in Toronto, where the local government expects to find 6,500 to 9,600 vacant dwellings, though some or many would qualify for an exemption from the vacant home tax.

But it turns out that the percentage of vacant homes is actually low, and even lower in high-demand urban areas. Furthermore, some dwellings are temporarily vacant for a reason, for example, transitioning from one occupant to the next.
The reason many believe in the fable that more than a million homes are lying vacant in Canada is a cavalier interpretation of Statistics Canada data. To get to the origins of the exaggerated assertions, we reverted to the primary source of the claim, which is a report distributed by the Organisation of Economic Co-operation and Development (OECD). The report suggested that around eight per cent of the housing stock in Canada was vacant, or more than 1.3 million "vacant dwellings."

The OECD vacancy estimates sparked subsequent news media accounts that this was causing affordability to worsen. The OECD reportedly sourced data from the Canadian government and pointed to a Canadian data portal, CensusMapper , as the source of vacant dwelling data.
The CensusMapper data is essentially sourced directly from Statistics Canada. But a quick look at the data portal reveals that some well-meaning individuals erroneously confused unoccupied dwellings with vacant dwellings, thus contributing to the widely exaggerated estimates of empty homes despite the posted caveats.

CensusMapper defines unoccupied dwellings as being either unoccupied or temporarily occupied by a person with a primary residence elsewhere in Canada or abroad. Similarly, Statistics Canada described an unoccupied dwelling for the 2016 census as a private dwelling fit for year-round living, but no one was residing there on May 10, 2016.

Were these dwellings unoccupied or vacant? Even if no one resided there on census day, did it remain unoccupied for a week, a month or the entire year? And what about the several hundred thousand cottages scattered across Canada that might be labelled unoccupied on census day, but were certainly not vacant.
Jens von Bergmann, who has previously taught at the University of Calgary, said some dwellings labelled as unoccupied by CensusMapper might actually be occupied, just not by the usual residents. For example, residences used as temporary housing for students or workers are not vacant, but are considered unoccupied by the usual residents.

The Canadian census, relying on input from enumerators, designates dwellings as vacant or otherwise on census day. Regrettably, these statistics are not part of the standard release by Statistics Canada. Fortunately, CensusMapper obtained special tabulations from the agency and has made the data available online.

A breakdown by the structural type of housing and city (Census subdivision) revealed the vacancy rate was much lower than eight per cent in urban Canada. Consider that while the overall vacancy rate in the City of Toronto was 4.6 per cent, census enumerators in 2016 identified a mere 2.2 per cent of the 276,630 single-detached dwellings as vacant. Even lower shares of single-detached homes were found to be empty in Montreal and Calgary, at 1.8 and 1.4 per cent, respectively.
The City of Vancouver reported a larger share of vacant dwellings (7.1 per cent), and the vacancy rate was relatively higher for apartments in duplexes, and low-rise and high-rise structures, a trend also seen in Calgary, Edmonton, Montreal and Toronto.

Even the empty dwelling counts by the enumerators are likely to be exaggerated because of how the census defines an apartment in a duplex, which is one of two dwellings located one above the other. If an owner decided to absorb the secondary suite into the primary dwelling or decided against renting the secondary suite, census enumerators may still count the secondary suite as vacant. Hence, the highest share of vacant dwellings is for apartments or flats in duplexes.
A small percentage of dwellings will always be unoccupied or vacant. For example, a private rental home between successive tenants, a dwelling undergoing renovations or owners being temporarily away for work will cause dwellings to be unoccupied.

Striving for 100 per cent of the dwellings to be occupied all the time is neither practical nor useful. The supply skeptics, however, continue to lobby the governments against building more homes.

The myth of a million or more vacant homes or empty bedrooms are nothing but smokescreens. A prudent way forward for the federal Liberals is to ignore supply skepticism and focus on building millions of new homes in a short period of time to address the housing deficit that has accumulated over decades.
Story by: Financial Post