Business investment lost amid trade uncertainty isn't coming back: Poloz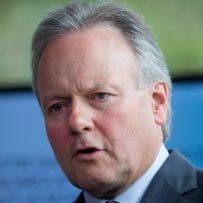 Bank of Canada Governor Stephen Poloz warns some business investment is going to be lost for good, regardless of when protracted North American Free Trade Agreement renegotiations wrap up.
"Just the discussion of [NAFTA risk] for the last 18 months has got everybody's radar on full – companies postponing or delaying important decisions, or making decisions that are different – investing in the United States, or what have you – just to hedge against the risk," he said in an interview with BNN Bloomberg late Friday.
"Unfortunately, these are decisions that only come up once every few years, they're highly strategic decisions for a company. So if we lose an investment because of that, we're not going to get that back just because NAFTA gets cleared up."
Uncertainty about the future of NAFTA has risen as talks between Canada, Mexico and the United States drag on with no end in sight.
Meanwhile, the United States has taken repeated aim at Canada in tariff decisions since the Trump administration took office, with the U.S. Commerce Department going after softwood, newsprint and, most recently, steel and aluminum.
Despite the trade tension, Poloz said there isn't a uniform response across corporate Canada.
"We have anecdotes, companies that have told us that they aren't [investing]; at the same time, the investment numbers have been pretty good," Poloz added in his conversation with Amanda Lang, also pointing to recent sentiment indicators and import data on machinery and equipment as positive signs for the economy.
"So we have to wait and see just how this ends up."