Building permits plunge after three months of increases, Stats Canada says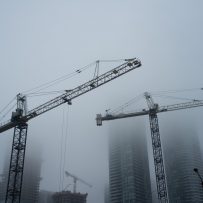 Story by: Kat Sueniuc  |  BuzzBuzzHome
The value of Canadian building permits saw a steep decline in August, following three consecutive months of double-digit gains, according to new data released by Statistics Canada Tuesday.
Lower construction intentions for residential buildings in Ontario and non-residential buildings in Quebec caused the value of permits issued by municipalities to plunge 27.3 per cent from the previous month — a far cry from some forecasters' initial expectations of only a 6.5 per cent decline — to $6.7 billion, the agency said.
Non-residential permits led the way in the national decline, falling more than 40 per cent to $2.5 billion after four consecutive months of gains, with residential permits dropping 15.9 per cent to $4.2 billion — bringing the year-on-year gain down to just 2.4 per cent.
Quebec and Ontario posted the largest decreases in permits, although permit value was down in six provinces.
Here are a few highlights from Stats Canada's permit breakdown of the residential sector:
Building permits for multi-family dwellings decreased 28.6 per cent in August to $1.8 billion, following a 42.8 per cent increase in July. Decreases were reported in six provinces, led by Ontario, with British Columbia a distant second.
Building permits for single-family dwellings declined 2.4 per cent to $2.3 billion in August, a second consecutive monthly decrease.
Nationally, municipalities approved the construction of 16,520 new dwellings in August, down 18.9 per cent from July.
In the non-residential sector:
The value of permits issued for institutional building construction intentions fell 76 per cent to $446 million in August, after increasing 29.6 per cent in July and 149.3 per cent in June. Quebec accounted for much of the national decline, the result of lower construction intentions for medical facilities.
In the commercial component, the value of permits fell 12.1 per cent to $1.6 billion in August, following a 1.2 per cent increase the previous month. The decline originated from lower construction intentions in warehouses and office buildings at the national level.
In the industrial component, the value of permits declined 15.2 percent to $454 million in August, marking the second consecutive monthly decline. Lower construction intentions for manufacturing plants and utility buildings were mainly responsible for the decline in Quebec, while in Alberta, the decrease came primarily from utility buildings.