Builders scrap pre-sold Toronto condo towers as costs escalate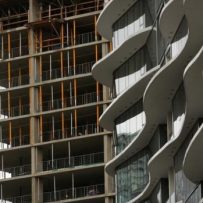 Builders in Toronto's frenzied condo market are walking away from giant towers they have pre-sold, reflecting a rougher road to profits — and leaving buyers in the lurch.
Soaring construction costs and condo values in Canada's largest city, where prices have surged amid a booming economy and strong immigration, have spurred developers to cancel projects they started when construction was cheaper and pre-sales were less lucrative. Condo prices have increased about 20 per cent since February of last year, according to the Canadian Real Estate Association.
"Many projects launched for pre-sales prior to having their proper approvals in place," Shaun Hildebrand, a senior vice president at Urbanation Inc., said. "By rushing to bring units into a hot market, some projects jumped the gun and added risk to the development."
According to Urbanation, which studies the Toronto condo market, there are 10,622 condo units in the greater Toronto area that were offered for pre-sale before 2017 and still await construction. Since the start of last year, 17 projects, with 3,627 units, have been canceled in the region, according to real-estate-services firm Altus Group Ltd. That's up from seven projects, with 808 units, in 2016.
This month alone, Liberty Development Corp. pulled the plug on a three-tower, sold-out condo development, citing problems with construction financing. Liberty didn't respond to an email seeking comment.
BAD TIMING 
The threat of still more cancellations looms over Toronto, where housing is tight, and expensive, as it is. While the average price of a home was down 17 per cent in March from a year earlier, according to the Toronto Real Estate Board, the decline comes after a long run-up. To cool the market, the government added rules making it more expensive to borrow — pushing buyers into condos from even pricier single-family homes.
Typically, developers need pre-sales of at least 70 per cent to get financing to move a project forward, said Phong Ngo, director of data solutions at Altus. That isn't their last hurdle. From there, the longer it takes to break ground, the higher the costs of materials and labor, especially as interest rates rise. Builders may face delays in getting government permits, finding contractors and workers amid the hot demand or parrying special-interest groups that oppose construction.
As of February, 143 condo projects that are at least 70 per cent pre-sold hadn't started construction yet, according to data from Altus. Of these, 43 had hit the 70 per cent mark more than a year earlier.
Construction costs in the Toronto area, which typically have risen in tandem with inflation, increased 6 to 8 per cent last year (compared with inflation of about 2 per cent), according to Altus. "We believe that going forward next year, it'll be at least that or more," David Schoonjans, senior director at the firm, said. At the same time, labor costs are rising, with hourly compensation up 2.4 per cent across Canada in 2017.
"At some point the project stops making financial sense," Schoonjans said.
It is in that environment that the Toronto region finds itself with 412 condo projects totaling 101,208 units in the works, Altus reports.
THE REBOUND 
In the end, "only a small portion" of condo buildings will be canceled, said Lauren White, senior vice president of the Land Services Group at CBRE Group Inc. "Therefore, the effect will be a minor tightening on supply as purchasers from canceled projects move to active projects."
Homebuyers who have had their projects scrapped will be back in the market again, increasing demand even further, said Mike Czestochowski, executive vice president of the group.
That's good for builders but a problem for buyers. Many who get their deposits back from the developer of a nixed project probably will have lost equity, because the market is a lot hotter today, Czestochowski said.
With the intense demand for housing in and around the city, many new projects are bound to rise and canceled ones to be revived — at higher prices.
"We haven't seen an increase in supply yet," he said. "It would be hard to imagine what else they do with the site."