Budget-Friendly Kitchen Updates for your Rental Property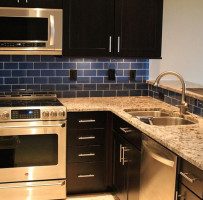 Looking for a way to boost your rental income and increase property value? Home improvements are the way to go, especially if your rental property is showing wear with age. While a complete kitchen or bathroom renovation gives you high return value, they're also expensive projects. Focusing on the most high-value home improvements will enable you to increase the rent and make the property more appealing to prospective renters. All property updates are planned with a budget in mind, so here are some cost-friendly improvements to bring your kitchen into the 21st century and deliver a must-have rental suite for your prospective tenants this season.
Replace the appliances.
Replacing old appliances will not only make your home more energy efficient, but will instantly give the kitchen a more modern, up-to-date feel. If you're saving up for a complete renovation and don't want to do any work you'll just have to tear out later, new appliances are an immediate update that can carry over into the remodel. A new sink and faucet fixture will also renew the space and can continue to be used after your renovation.
Spruce up the existing cabinets.
Replacing cabinets are costly, so if your cabinets are still in good condition but looking worse for the wear, give them a new coat of paint along with some hardware updates. A light neutral color, new drawer pulls, and some spring-loaded drawer slides will revitalize your kitchen at a fraction of the cost.
If your cabinets are in desperate need of replacement, look into ordering stock cabinets from the hardware store or IKEA instead of going with custom-made ones. With all the different cabinet styles out there, you'll end up with the same look without the high price tag.
Retile the backsplash.
Tiling the backsplash is an inexpensive, quick do-it-yourself project that will give the kitchen a huge facelift. Subway tiles are a popular look in both bathrooms and kitchens that give a clean and modern feel – it's also conveniently low-cost. When choosing the tile, go with a neutral color that will match with the cabinets to appeal to a broader range of potential renters.
Know your countertop choices.
Countertops can discolor, crack, or chip with age. While granite is a desirable look, it can be expensive, especially if you're renovating a larger kitchen. Using granite tile, modular granite, or natural stone tile is a low cost alternative to slab granite, while achieving the same look. If you're more concerned about keeping costs down, laminate countertops or ceramic tile are both inexpensive and durable.
Kitchen renovation costs can add up quickly, so complete thorough product research and draw up a budget before you begin. Comparing all your options will help you achieve the look you want without overspending.
Story by: Jennifer Chan