Brookfield Property submits new offer for mall owner GGP: Sources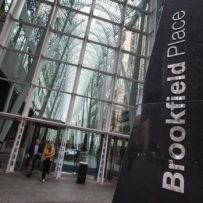 Commercial real estate company Brookfield Property Partners LP (BPY_u.TO 0.57%) has submitted a new offer to take over GGP Inc (GGP.N 0.42%), one of the largest owners and operators of U.S. shopping centers, people familiar with the matter said on Friday.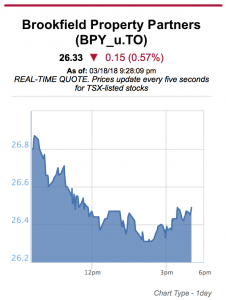 The new bid comes more than three months after a special board committee of GGP rejected a US$14.8 billion cash-and-stock acquisition offer from Brookfield Property, its largest shareholder, as inadequate.
Brookfield Property's new offer has a slightly higher cash component and offers GGP shareholders a new security that will trade as a real estate investment trust, according to the sources.
GGP's special committee has not yet agreed to Brookfield Property's new offer, and negotiations are continuing, the sources said.
The exact value of Brookfield Property's new bid could not be learned. The sources asked not to be identified because the negotiations are confidential. Brookfield Property declined to comment, while GGP did not immediately respond to a request for comment.
Brookfield Property's efforts to buy GGP come as mall owners across the United States are struggling as many brick-and-mortar retailers lose business to e-commerce firms such as Amazon.com Inc.
Brookfield Property unveiled a US$23 per share cash-and-stock offer for the 66 per cent stake of GGP it does not already own in November. A combination of Chicago-based GGP and Brookfield Property would create one of the world's largest publicly traded property companies, giving it more power to negotiate prices with retailers.
The equity component of Brookfield's offer has emerged as a point of contention in the deal negotiations, the sources said, while recent U.S. tax reforms have also contributed to the talks being protracted.
It is not the first time Brookfield Property's attempt to buy out a real estate investment trust in which it already owns a big stake has been rejected. In 2016, Rouse Properties Inc, another U.S. mall owner, rejected an offer by Brookfield Property, its largest shareholder, only to subsequently agree to a sweetened US$2.8 billion offer.