BROOKFIELD MULTIPLEX SELECTED TO BUILD LANDMARK HELIX TWIN TOWER APARTMENT PROJECT IN LONDON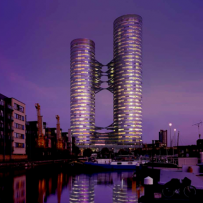 Essential Living has selected global construction company Brookfield Multiplex to develop the iconic Helix twin tower residential complex on the edge of London's Canary Wharf.
Slated to cater to the city's emerging private residential rental market, the project includes two elliptical high-rise structures offering a total of 395 apartments.
The Eastern Tower, which will be 29 stories high, and the Western Tower, which will rise 35 stories in height, will be connected by spaghetti-like steel bridges at various levels. Each floor will feature a wraparound balcony with views of the nearby marina.
Plans also call for a wide range of on-site amenities, including rooftop communal terraces, a fitness center, resident's bike storage, restaurant facilities and a children's play area.
According to the World Construction Network, Brookfield Multiplex has secured a nearly $152 million (£90 million) contract for the construction.
The project has been designed according to the Code for Sustainable Homes Level 4, an environmental assessment method that aims to encourage continuous improvement in sustainable homebuilding across the U.K. The development will also comply with the standards of Lifetime Homes, a series of 16 design criteria intended to make homes more easily adaptable for lifetime use at minimal cost.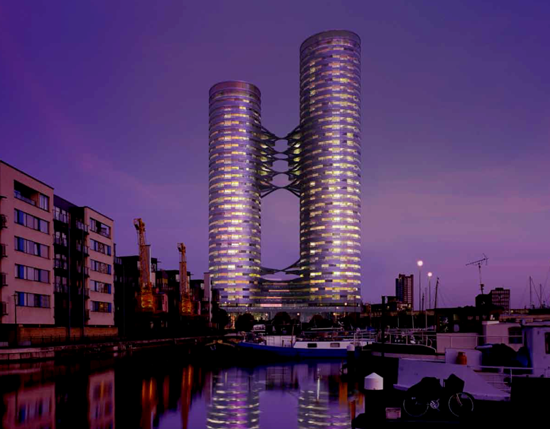 "Ensuring quality throughout the development process has been our top priority—we're building and managing homes for long-term rent, and that means they have to still look and function perfectly 10 years down the line. Brookfield Multiplex shares our values and objectives, and we're extremely excited to be working with them on such a landmark project," said Essential Living Construction director Ray Theakston.
The Helix London apartment complex will rise on the site of one of Europe's largest McDonald's restaurants, which is slated for demolition during this year's last quarter. Construction on the new towers is expected to begin in the first quarter of 2015.
The project is the first of a series of developments that Brookfield Multiplex will deliver for Essential Living in Greater London.
Story by: Adriana Pop, Associate Editor, CPE