BRIGHT OUTLOOK FOR U.S. APARTMENT SECTOR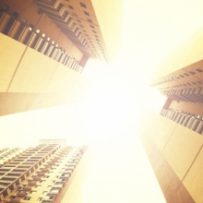 The U.S. apartment sector is healthy and will remain that way for the foreseeable future, although it won't experience the kind of growth it's seen over the past several years, according to a forecast from Auction.com Research. Supply has ramped up in several markets, and industry experts anticipate that the new units will affect occupancy and rental rate growth, limiting owners' ability to raise rents and increase net operating income (NOI) at the same impressive levels.
From a fundamentals standpoint, the U.S. apartment sector is still the best and the brightest of all property types, according to Peter Muoio, PhD, chief economist and executive vice president for Auction.com and New York City-based research firm Maximus Advisors. "If the apartment sector were a train, it would be moving down the tracks at a good speed with plenty of continuing momentum," he says. "From an owner's perspective, this is a very solid place to be. The current conditions allow owners to not only increase rental rates, but also improve the profile of their tenant base because there's not a lot of choice for renters."

Healthy fundamentals
Demand has remained steady and strong, averaging nearly 39,000 units of absorption over the past 12 quarters, according to Reis data. This favorable supply-demand situation allowed seasonally adjusted vacancies to drop to their lowest level since 2000, according to Auction.com Research.
The firm forecasts vacancies for year-end 2014 to be 4.2 percent and expects them to drop further through 2016, bottoming at 3.8 percent before edging up to a still-low 4 percent in 2017.
More and more markets are at or near their vacancy low points, and Maximus Advisors recently downgraded 26 markets from their previous rankings due to slowly shifting supply-demand curves that could affect occupancy and limit future growth in rental rates compared to recent years. The firm only upgraded four markets.
However, Muoio is quick to point out that the apartment segment and nearly every market still enjoy very healthy fundamentals and the outlook is solid for growth in effective rents. And with vacancies dropping below the 4 percent mark and remaining there through 2017, the research firm projects that effective rents for apartments will increase in the range of 3 percent per year over the next four years. Apartment effective rents are now nearly 10 percent above their pre-recession peak.
Demand inconsistent with household formation
The consistent strength of apartment demand runs counter to the picture painted by Census Bureau monthly household formations estimates, according to Auction.com Research. The firm says household formation has slowed to levels typical of a severe recession, not a gradually strengthening economic recovery.
"Even with the weak initial estimates of first-quarter GDP—which was also influenced by the extreme winter in much of the country—the overwhelming evidence of strengthening job gains, lower unemployment, and improved consumer confidence doesn't sync with an annualized household formation rate of just 69,000 in the first quarter of this year," Muoio points out. "Even factoring in the higher student debt loads that are inhibiting young adults from forming their own households as they finally land jobs, this country hasn't seen a household formation rate this low since World War II."
The continuing strength of apartment demand suggests stronger household formations may be lurking under the surface, particularly from Millennials /Generation Y. These children of the Baby Boomer generation, around 80 million strong, remain a huge untapped reservoir of demand for apartments. Most of them are in their 20s, an age where they're looking to establish their own households.
"We continue to view this large cohort of young adults as a key source of demand for apartments over coming years," Muoio says.
New supply
Apartment completions slowed in the first quarter to 25,745 units, partly because of the severe winter weather in many parts of the country. This number is well below 2013's average quarterly delivery of 38,000 units. Nonetheless, Auction.com Research increased its 2014 completions forecast to more than 180,000 units, up from 161,000 units in its previous forecast.
While multifamily starts of properties with five or more units in the first three months of the year averaged just a 307,000-unit annual rate, starts jumped to a 413,000-unit annual rate in April when the country thawed. This brought year-to-date multifamily starts to a 334,000-unit annual rate, on pace with the firm's forecast for the full year.
The new deliveries haven't reached levels to cause alarm, however. In fact, a recent survey conducted by NREI found that four out of ten respondents think that the current amount of apartment development is "just right." A little more than 28 percent said there is too much, and 18.1 percent said there is too little.
"The amount of development is something to pay attention to, but it's not a black cloud on the horizon," Muoio says. "The market is not overbuilt, and most of the places that are seeing new supply are those that have the very tightest occupancy rates."
Story by: Auction.com